I will have a Review, Excerpt, and Giveaway. First, let's get to know the author.
V.V. Aku has always believed in beautiful stories. She found the man of her dreams and her way in complex China, and wrote a fairytale of her own: The Fire of Dawn

-

a scintillating tale about strength, self-discovery, and a girl who dared to follow her heart.
Born and raised in The Netherlands, V.V. Aku (Veerle Ackerstaff) soon discovered that the world was a place worth exploring. After graduating high school, she set out to travel the globe until she finally touched down in China. On the border of Tibet she met Anzi Aku, a wild Black-Yi man who lives at the foot of the Himalayas. She has joined his clan and tries to find her place among the tribe and its shamans. When she's not researching the clan's mythology on vampires, she shamelessly gives in to the compulsion to write about the countless characters that haunt her dreams.
V.V. Aku is the author of The Fire of Dawn

and

Black Dusk. She has been the creator of stories since the age of three, and has a Post-Graduate Diploma in English Language Teaching to Adults from The University of Cambridge ESOL. After nearly a decade of working as an English language teacher and TEFL trainer in China, Thailand, The Netherlands, and the UK, she now devotes all her time to writing, her family, and practicing Kung Fu. The Fire of Dawn is her debut novel.
It's the last day of the summer holiday in The Hague when Leah Koopmans's carefree life as a teen is brutally flipped upside down. Her pale skin turns a dazzling gold, her senses heighten, and her muscles possess an uncanny strength. But with these exhilarating new powers comes a thirst that can only be quenched by one thing: human blood.
While her body craves for fresh victims and her heart drowns in guilt, she meets inhumanly handsome Max Machiavelli, who claims that Leah is immortal like him. Infatuation ignites into blistering passion when she joins his coven in Amsterdam. But as the mysteries shrouding her sudden change to immortality unravel, Leah quickly learns that her aversion to taking life isn't the only thing that sets her apart from this group of herculean strangers.
From the picturesque canals of Amsterdam to Corsica's limestone cliffs and the untamed Siberian wilderness; from first loves to fierce battles, The Fire of Dawn is an extraordinary tale packed with romance, betrayal, and bloodsucking suspense that will keep you on the edge of your seat till the very last page.
V.V. Aku has a great ability for description. She really makes the reader understand the ins and outs of Leah by giving such in depth descriptions.
While the main characters seem to have suffered the same quick fall into love that so many books have these days, the romance and heat between them was still at such a level, that I overlooked it.
Overall, I really enjoyed this. Beware, these aren't your average humane vampires in most Paranormal Romances, there is definitely more *bite* to them.
'Something's wrong!' Max gasped, sitting up in bed so quickly that the unexpected movement sent me over the bed's edge. I caught my balance before I smashed onto the walnut parquet. We had dozed off about an hour ago. Outside, the sun had risen.
Max was panting, his face filled with fear. 'We've got to get out of here!'
'What's going on?' I yawned, rubbing the sleep from my eyes.
'They're near! Pietro can hear them.'
He had said 'they' with such abhorrence that it could only have meant one thing. He got to his feet, scrambling for his clothes that were scattered over the floor together with mine. I had never seen him this alarmed. The bedroom door flung open and Pietro and Sam barged into the room, both in the same frantic state as Max was.
'How did they find us?' Max shrieked.
'I don't know, but we must leave immediately!' Pietro yelled.
We left the house and darted toward the city center. The streets were deserted. Livorno was still asleep. In the morning sunlight, our legs were heavy, moving tediously slow while Pietro broadcast the thoughts of the advancing Brotherhood as they tracked where we ran
-
his voice without emotion. 'There are four: two males, two females… They have entered the boulevard. Stand by for confirmation... They have turned right on Via Grande.'
Then Pietro's face twisted in horror. 'Stop,' he whispered, his voice shaking. 'They're here.'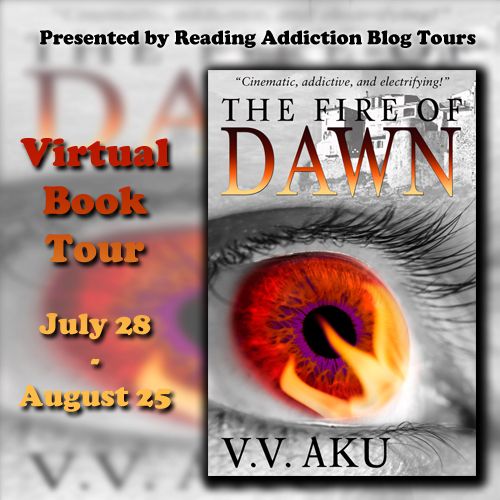 a Rafflecopter giveaway
Follow along with the rest of the tour for more Reviews, Excerpts, Giveaways, Interviews, and More: