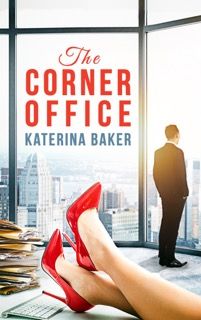 Date Published:

June 23, 2017
Tara Johnson's sacrifices are about to pay off: a senior executive at thirty-five at a Fortune 500 company, she's one of the two finalists in line for a Managing Director position. Unfortunately, her rival of fifteen years, the charming, infuriating Richard Boyd, is just as qualified, and unlike her, he's willing to cross pretty much every line to get what he wants.
Of all the things Tara stored in the attic to make it to the top, it's her personal life she misses the most. That is, until she starts a steamy affair with sex god Aidan, her direct report. Interoffice relationships with a subordinate can mean the end of a career, and when Richard finds out, it's the perfect opportunity to take his high-heeled nemesis out, especially since he's still nursing a grudge against Tara for rejecting him years ago.
But Tara's increasingly domineering lover has his own dark secrets, endangering more than just her career. As her liaison spirals out of control, salvation will come from the man she always thought she hated, and perhaps the only one to truly understand her.
Interview
Is There a Message in Your Novel That You Want Readers to Grasp?
The main message is that women can do anything. When united together, there is nothing women cannot achieve.
In The Corner Office, the main character is a 35-year old female executive who had put her personal life on hold while she was focusing on her career. She works crazy hours, yet nothing gives her greater satisfaction than helping other women succeed in their careers.
She think she can't have it all—have satisfying work as well as personal life—but as the novel progresses she realizes how wrong it was. The book is about her journey and her mistakes on the way to achieving it all.
Is there anything you find particularly challenging in your writing?
Finding enough time to write when inspiration strikes is the hardest part. I have a day job, and between that and my family, there are days I don't have much time to focus on writing. When I do, sometimes my child wakes up while I'm in the middle of writing a key scene, and I am in the zone, yet I turn off the computer and take care of my family. Sometimes when I come back to writing, my thoughts are gone and I am no longer "feeling the character" like I did before, and it takes me some time to get back at it.
How many books have you written and which is your favorite?
The Corner Office is the first book I am publishing, but I've written 5 books, which I will be publishing over the next several years. I love all of them for different reasons. The first book is always going to be one of my favorites. It's like the first platonic love; you can never forget it and it's hard to see faults with it. It is about a young woman who started working on Wall Street and who got involved in a financial fraud case involving the FED. I shelved the book for a few years and will be revising it and publishing in 2018.
If You had the chance to cast your main character from

Hollywood

today, who would you pick and why?
I always liked Natalie Portman. She has such an intelligent look that would fit well for the main character of The Corner Office. At the same time, there is something fragile about her, the second side that is not immediately visible. I think she would be the perfect Tara.
When did you begin writing?
I began writing five years ago after my kids grew out of toddlerhood and I got my late nights back. For me, writing is an escape. It allows me to utilize my creative side like nothing else can. Before writing, I used to paint. I wasn't very good, but I could spend hours without realizing where time went, and at the end I had this energy and glow. I felt more alive than I did before. The same with writing: when I finish a scene, I get this "high" I can't get from anything else. I keep smiling until people start asking what's wrong with me.
How long did it take to complete your first book?
It took almost four years, but it wasn't consecutive. I stopped writing it, began working on something else, then I went back to my first work. Ultimately, my first book got me my agent, Sharon Belcastro.
Did you have an author who inspired you to become a writer?
There are so many. Jodi Linton and her sexy cowboy series inspired me to write my Romantic Suspense series Under the Scrubs. I really love Julie Kazimer and her novel Dope.Sick.Love. It is really fresh and unlike anything else I've read. I love Camilla Monk and her amazing, witty Spotless series.
What is your favorite part of the writing process?
My favorite part is revisions when everything comes together. If the first draft is just a roadmap made with breadcrumbs, revisions are the final messy masterpiece put together from those breadcrumbs that make a book unique.
Describe your latest book in 4 words.
Fifty Shades meets The Office
Can you share a little bit about your current work or what is in the future for your writing?
I signed a contract with Lachesis Publishing to publish the first novel in my Romantic Suspense series, Under the Scrubs. It's a fun, adventure packed novel about a young OBGYN woman who accidentally gets involved with an FBI agent and in a murder case. She is your down-to-earth girl next door who's into baking and homemade meals. Her dating life has been put on hold for too long due to studies and residency, and when she meets this mysterious, intense guy in a chance encounter, she is instantly drawn to him. The novel would be your typical opposites attract story, except the setting is a high-stakes murder case, and the main character gets thrown into life-or-death situations where she has to play a hooker, break into a prison and fight for her life. This has been such a fun novel to write that I've already finished the first draft of a sequel, which is based on a Caribbean island, called Scrubs Overboard. I can't wait to share this series with all of you.
Katerina Baker is a lucky gal who still attempts to have it all: full-time project management job that she enjoys, crazy family of four (with the ongoing threats of getting a pet to upset the family equilibrium) and writing.
Although on some days she is much more successful at managing her life than on the others, she still claims that she doesn't want it any other way.
Katerina is represented by Sharon Belcastro from Belcastro Agency, and has a contract with Lachesis Publishing, who will be publishing her Romantic Suspense novel Under the Scrubs.
To enter, readers need to add The Corner Office to their Goodreads TBR list and comment on the
Facebook post HERE