The origins of Judeo-Christian religion and mythology come together in this mature science fiction page-turner.
To combat overpopulation on the planet Orion, the government releases a birth control virus to keep women from becoming pregnant. Only the brightest and most attractive of their species are allowed to mate. But the virus rages out of control, killing both mother and child. Attempts to develop a cure fail. They only have one option left: search other worlds for advanced societies that may be able to help.
The two most intelligent minds on Orion—and former best friends—Lucifer and Zues band together to search for a secret planet. When they finally arrive, they are greeted with unexplainable death and destruction. This planet is not the answer. Something doesn't add up. They discover an extra unknown planet in the solar system.
The new planet is covered in lush land masses and bodies of water. Different species of hominids run—and mate—freely. Fire-breathing dragons guard the land. Lucifer is determined to figure out who or what created this planet. He thinks it just might be the key to saving Orion and the Orionites.
Is There a Message in Your Novel That You Want Readers to Grasp?
Yes. You must learn to be still.
Is there anything you find particularly challenging in your writing?
Just finding the time and the quiet to go along with it. Too many screens, beeps and flashes in our modern world.
How many books have you written and which is your favorite?
I've written three. My latest release "In the Beginning" is my favorite. It has Dragons, Bigfoot and Lucifer in it. It's just way too much fun.
If You had the chance to cast your main character from

Hollywood

today, who would you pick and why?
Oh, I hate to say this cause my wife would just swoon.
Okay fine-Johnny Depp. Who else could pull off Lucifer better than him.
When did you begin writing?
Probably about five years old. I lied a lot as a kid. Made up tons of stories. Does that count?
How long did it take to complete your first book?
72 hours, stayed up for three days straight. Felt like if I didn't finish I'd explode or something.
Did you have an author who inspired you to become a writer?
Not really but if I had to choose I'd have to say Homer, Plato, Aristotle or good 'ole Socrates.
What is your favorite part of the writing process?
When my fingers take off in a direction that I didn't even know was there. Then I read it and I say "Damn! That's good stuff" Well, I don't say "stuff".
Describe your latest book in 4 words.
Does life have meaning
Can you share a little bit about your current work or what is in the future for your writing?
Every culture, no matter where they are on earth, all have the same story. A long time ago, people came out of the sky. They taught us things. They taught us agriculture, mathematics, architecture, weapons manufacturing, medicine …magic. Some of these sky people took human wives and had children. Then, there was a war in heaven and of course, it always ends with the great deluge. It's always the same from North America to China. This is my version of "what really happened". I thought it was fiction, after researching and writing it, now I'm not too sure.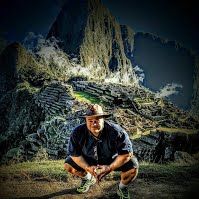 BCE is originally from parts unknown and currently resides in areas of the planet yet to be explored. His favorite pastime is reading old encyclopedias while eating Peanut M&M's. He does believe that the warehouse depicted at the end of Raiders of the Lost Ark actually exists. He has only one goal left in his life that he wishes to accomplish: to live long enough to see the aliens return so he may look over at his beautiful wife in her nursing-home bed and say, "I told you so."