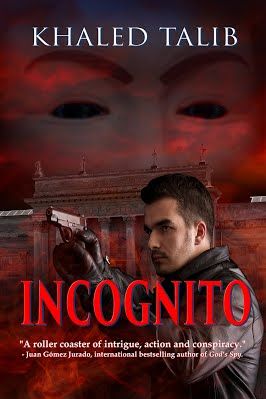 Date Published:
15, May 2017
Publisher: World Castle Publishing
The Pope is missing. Three specialists – a British, a French and an American – are dispatched by a covert division of Anonymous to find him.
Interview
Is There a Message in Your Novel That You Want Readers to Grasp?
The message in my novel is religious tolerance. I am looking at the media these days and I noticed how loosely politicians and influencers are taking pot shots at Islam. I feel both politicians and the media are to be blamed for everything that we are seeing. This is irresponsible behavior on their part. In political language, it is call 'dog whispering' and as you can see the violence on all sides is escalating. The world needs to be a more tolerant place. I fear this might be too late.
Is there anything you find particularly challenging in your writing?
The toughest part to me is losing my plot. Once it goes out of focus, I have the arduous task of revising it. It requires me to apply some thinking, so the pressure is on. It can take me somewhere from an hour to a couple of days to resolve it. The process is stressful because I might still get it wrong, but we learn from our mistakes.
How many books have you written and which is your favorite?
I have written three novels, so far. They are all special to me in different ways. However, my first novel, Smokescreen, took me almost two decades to complete. The second, Incognito, took one year and four months while the third, Gun Kiss (due this year) took me only six months. Without passion, I doubt I'd be able to finish of these books, so I guess I love them all. That said, I have an affinity with the characters in Gun Kiss. Somehow, I can't seem to get them out of my head. I am even considering a sequel. Maybe it's because of the blonde, movie star I created in the story (wink, wink!).
If You had the chance to cast your main character from

Hollywood

today, who would you pick and why?
For incognito, I'd consider Andrew Garfield as my protagonist, "Ayden Tanner." Somehow, the actor looks the part for my protagonist. He's young, athletic and he's got the features. He can pull it off.
When did you begin writing?
I've been writing since I was kid, inspired by the works of mystery authors. But I wasn't sure what I really wanted to do with my life. I ended being a journalist before switching to public relations. There was always that yearning to write a novel. I had a character at the back of my heard who kept bugging me. so, one day, I decided to test my skills. I did not have an easy time. It was trial and error before the novel ever got published.
How long did it take to complete your first book?
It took more almost two decades. The second one was much easier, and so was the third. It wasn't a smooth passage, there were hiccups. But I managed to overcome barriers faster than I previously did. We learn.
Did you have an author who inspired you to become a writer?
The names on the list would be longer than a Country Club's membership. But If I were to name three, I'd say Robert Ludlum, John Grisham and a sixteen-year-old French girl (well, she was 16 when I was ten) whose name I can't recall. But I remember she wrote a book about life in her neighborhood. I didn't read the book, it belonged to my mom, which I found in a box of books. But her photo in the back cover impressed me. I thought, "It's cool to be an author."
What is your favorite part of the writing process?
When I type The End. You know, when you are into the manuscript, it's hard to imagine that you can complete it. It seems so far away, like you're struggling to walk across the desert to reach civilization on half a bottle of water. There is that sense of impatience that you must learn to control. You could easily wrap it up and type "The End" any time, but would you be doing justice to yourself and your readers? You know you must go on and do it properly so that the story sounds right.
Describe your latest book in 4 words.
Dark. Suspenseful. Intense. Dangerous.
Can you share a little bit about your current work or what is in the future for your writing?
Gun Kiss, scheduled to be published by Imajin Books this year, tells the story of a Hollywood movie star who gets kidnapped by a Mexican drug lord. It begins when the Deringer that shot Abraham Lincoln gets stolen. And then the adventure begins…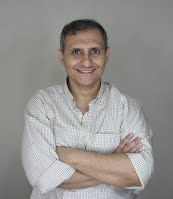 Khaled is a former journalist with local and international exposure. His articles have been published and syndicated to newspapers worldwide, and his short stories have appeared in literary journals and magazines. The author is a member of the UK Crime Writers Association and the International Thriller Writers. He lives in Singapore.