Young Adult/Paranormal Romance/Mystery
Date Published:

Feb 18, 2014
2015 Readers' Favorite Gold Medal Winner for YA Mystery
2015 RONE Award Finalist for YA Paranormal
2015 New Apple Top Medalist for Young Adult Ebook
Chosen as one of 400 for the second round of the Amazon Breakthrough Novel Award for 2014!!!
Rising Tide will sink its fangs into you, keeping you awake into the wee hours of the night
Could Maura's life get any worse? ...turns out it most certainly can.
Isolated and sheltered by her lonely mother, Maura's never been able to make friends. She seems to drive her classmates away—except for the odd times they pay enough attention to torture her—but she doesn't understand why. Maura considers herself to be a freak of nature, with her unusually pale skin and an aversion to the sun that renders her violently nauseous. Her belief is only worsened by the fact that almost everyone around her keeps their distance.
Even her own father deserted her before she was born, leaving Maura alone with her emotionally distant mother, Caelyn. Even though Maura is desperate for answers about her unknown parent, Caelyn remains heartbroken and her daughter can't bring herself to reopen her mother's wounds. Or is there a more sinister reason Caelyn refuses to utter a word about her long-lost love?
When a cruel prank nearly claims Maura's life, one of her classmates, Ron, rushes to her rescue. Darkly handsome & mysteriously accepting, Ron doesn't seem to want to stay away, but Maura is reluctant to get too close, since her mother has announced she's moving the two of them to Vancouver…nearly 3,000 miles away from their hometown of Indiana, Pennsylvania.
If life wasn't already challenging enough, Maura begins to experience bizarre, physical changes her mother seems hell bent on ignoring, compelling Maura to fear for her own life. Vicious nightmares, blood cravings, failing health and the heart-shattering loss of Ron—as well as the discovery of a tangled web of her own mother's lies—become obstacles in Maura's desperate quest for the unfathomable truth she was never prepared to uncover.
Interview
Is There a Message in Your Novel That You Want Readers to Grasp?
Yes! In Rising Tide, Maura is the 'other.' She is a creature outside the norm. At times she is treated very poorly because of her differences, but my depiction of her becoming 'perfect' is a statement that different is good, outside the norm is a positive place to be. So, there is a huge anti-bullying element. There is also the message that we all make mistakes when we are young. This part of growing up is only natural…and largely unavoidable. Like Maura, there is life after making those mistakes, better life if you choose to learn from them.
Is there anything you find particularly challenging in your writing?
Time is always my enemy. What with doing my own marketing and PR, travelling for signings and everyday life, finding time to write is always a challenge. I'm hoping I can make writing my permanent full-time job in the future.
How many books have you written and which is your favorite?
Three full-length YA Vampire novels, one children's book, and three short stories. Riptide was the most fun to work and is definitely my favorite book.
If You had the chance to cast your main character from

Hollywood

today, who would you pick and why?
Alix Elizabeth Gitter…with brown contacts. She looks almost exactly the way I picture Maura in my head.
When did you begin writing?
I was writing stories as early as age five. I used to narrate everything around me inside my head, haha.
How long did it take to complete your first book?
Six years! I obsessed over it waaaaay too much!
Did you have an author who inspired you to become a writer?
Stephenie Meyer, Stephen King, Edgar Allan Poe and Ernest Hemingway.
What is your favorite part of the writing process?
Just writing. Getting the build up out of my head and onto the page. That sense of accomplishing something you feel is vitally important at the end of a day. It's also nice to have a drink occasionally while writing just to crack the creativity and worry about what you're writing a little less…lessened inhibitions are good for writing occasionally.
Describe your latest book in 4 words.
Utter horrific holiday terror
Can you share a little bit about your current work or what is in the future for your writing?
I'm finishing up a Christmas anthology, The 12 Terrors of Christmas, with eleven original works by me included. There will also be a bonus story by author, Lynn Lamb. One of the stories will be a bonus peek at Maura's family during the skipped over Christmas in the third book Riptide. Readers will learn a secret there that was not disclosed in the first trilogy ;)
I also have my second children's book being illustrated right now. This will also be a Christmas book and both will be released in early November if all goes as planned.
The first book in the next Maura trilogy is about halfway written, but will probably come out early in 2018. I'm also working on a light contemporary romance series. It would be nice to get the first couple of books out at the end of the year, but I'll have to see how fast the writing goes
J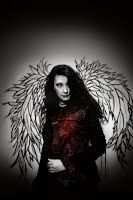 Claudette Melanson writes dark fantasy in Kitchener, Ontario with four bun babies: Tegan, Pepper, Butters & Beckett. She graduated from Indiana University of Pennsylvania with a BA in English, BS in English Education and an MA in Literature. Harboring a deep admiration of vampires since the age of five left her with the desire to eventually become one, and now fuels the creation of her favorite paranormal characters. She hopes to one day work full time as an author, since there are many, many stories playing out inside her head.
In her very scant spare time, she enjoys watching Japanese Anime and reading vampire stories...along with other genres of great fiction, as well as riding every roller coaster she encounters in both her hometown and away at signings. An advocate for good health and ketogenic eating, her favorite foods are bulletproof coffee, cashew-flour crust pizza and treats made with xylitol and almond, coconut or cashew flours.
Future dreams include a cabin boasting a roaring fire, isolated inside a snow-filled wood in the Yukon—the perfect writing spot—and the completion of dozens of future novels and stories. A Rabbit Rescue fanatic and loving bunmom, she also hopes to help rescues all over the world save many innocent lives.