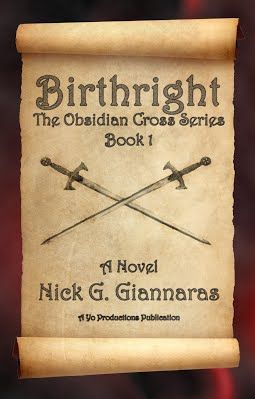 Date Published:
June 27, 2017
Publisher: Yo Productions, LLC
As an infant, Niklas's family escaped death when the entire royal bloodline of Livonia was murdered. As an adult, Niklas joined the Teutonic Knights in their bloody crusades across Europe to spread God's Word. After years of service, he discovers that the army he faithfully served has ill-intentioned motives.
When Niklas and his friend defect from the knighthood, they are relentlessly pursued across the Baltic States by the wickedly led Teutonic Order. His only hope to enjoy a peaceful life is to unify the oppressed populace against their tyrannical rulers. But, political upheavals and looming enemies threaten any chance of peace. When it's discovered that an heir to the Livonian throne is still alive, Niklas vows to help him regain his rightful place as leader. At best, Niklas's oath can help bring freedom to people in a lost country. At worst, it can cost him his life.
Interview
Is There a Message in Your Novel That You Want Readers to Grasp?
-No matter how dark your situation, no matter how insurmountable the odds are against you, nothing can come against you when you have faith and hope in God.
Is there anything you find particularly challenging in your writing?
-My biggest issue is always finding new ways to write a statement, phrase, emotion, or feeling. I hate reading a book where a word like "smirked" is used over and over on the same page without any variety.
How many books have you written and which is your favorite?
-I have five published so far, a trilogy (my first three books), a civil war historical fiction (my fourth), and my recent novel, Birthright. As for my favorite, I would have to say my fourth novel, Enemy in the Ranks. I was a Civil War re-enactor for fifteen years, so writing the fourth novel was quite easy. Many of the experiences the characters dealt with were written from first-hand knowledge of my adventures as a living historian.
If You had the chance to cast your main character from

Hollywood

today, who would you pick and why?
-For Birthright, I think Niklas cast by Viggo Mortensen would be a nice choice. I can see Viggo doing this based on his involvement from several of his previous movies. I also think his emersion into a role is another factor. I want people to believe and feel what Niklas expresses on screen physically, emotionally, and spiritually.
When did you begin writing?
-I "wrote" my first book in elementary school, then worked on a fifty-seven page book in middle school, of which I never finished. In 2003, my secretary came into my office with a stern look and said, "God told me to tell you there are untapped talents within you. Use them." Literally, a burning in my stomach started. Three days later I commenced to writing and haven't stopped since.
How long did it take to complete your first book?
-Ha! It took close to a year to finish it, and with the following edits and all, two years more. Luckily, I write better now, and a bit faster.
Did you have an author who inspired you to become a writer?
-I would have to say Dennis L. McKiernan. When I bought his books back in high school and started to read them, I became immersed into his novels. For years afterward, whenever I thought of an idea about a story, I kept saying, "That would make a good book." But I never capitalized on it until 2003.
What is your favorite part of the writing process?
-Writing the first chapter. I love writing something capable of drawing a reader in and making them want to read more. Like the beginning of a movie, the first few minutes either gets you excited, or not.
Describe your latest book in 4 words.
-For Birthright: an emotional medieval journey
Can you share a little bit about your current work or what is in the future for your writing?
-My next novel, Rebellion, has begun the editing process and is due out in November of 2017. The final book in the Obsidian Cross Series, Justice, has just been completed. The next story I am to write is a toss-up between several ideas: either I complete a Civil War novel set in 1864 Louisiana or continue with a storyline in which I have written two chapters on combining medieval English history and English folklore. I'm still debating which to pursue.
Nick G. Giannaras has been practicing Chiropractic for 20 years. He resides in North Carolina where he is active in his church, Deliverance Christian Center. He enjoys his great family amid numerous hobbies such as: tabletop wargames, creating music, painting, hunting, and fishing. He was also a Civil War reenactor for 15 years. He never considered writing as a ministry until the endeavor commenced in 2005. Nick views his books as 'Entertainment with a message' and prays they will reach the world with a positive impact for those who jump into his words.