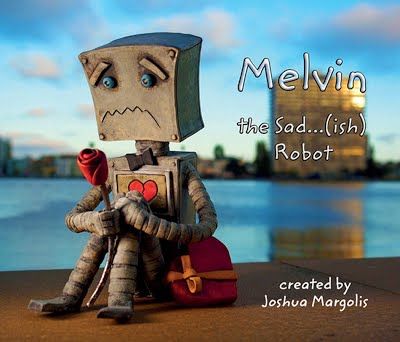 Publisher: Mascot Books
Melvin is known for being a sad…(ish) robot. But, as he finds new friends and experiences, he may just figure out how to be happy…(ish).
Is There a Message in Your Novel That You Want Readers to Grasp?
The main message is that it's ok to be sad sometimes, and that life is filled with ups and downs, but taking risks and putting yourself out there is a good start to a good adventure.
Is there anything you find particularly challenging in your writing?
The whole process is so different and challenging from my sculpting. When I sculpt I treat each piece like a gesture and move from one piece to the next. With writing, I am so mentally taxed by composing the perfect sentence. Gestures do not work in writing.
How many books have you written and which is your favorite?
This is my first book. I love it, but I am also really excited about my next book. I needed to write this book, but I wanted to write my next one.
If You had the chance to cast your main character from Hollywood today, who would you pick and why?
When did you begin writing?
I started outlining this book about two years ago. I wanted to tell a longer narrative about my sculptures, and figured a picture book would be the best way to accomplish that goal.
How long did it take to complete your first book?
With the writing, sculpting, photographing and editing, it took about an entire year. Book two will take much longer. I've learned nothing.
Did you have an author who inspired you to become a writer?
Brom. As an artist and author I find his work really inspiring. I also just randomly met him last week, so that experience is fresh in my mind. His work is very dark and nothing like mine, but seeing an artist attempt to tell a longer story gave me the spark to tell my stories.
What is your favorite part of the writing process?
Taking a long walk and having a great line or idea or scene pop in my head. Walking really seems to help my process. I am always stopping to enter ideas in my phone.
Describe your latest book in 4 words.
Unique visual, emotional style
Can you share a little bit about your current work or what is in the future for your writing?
I am done drafting my second book and am sculpting pieces to be photographed partially in New York City. Its going to be a huge undertaking with many more characters and dynamic setting.
Joshua Margolis is a sculptor, photographer, and author from Oakland, Ca. His work has been featured in many galleries and studios. He was the de Young Fine Arts Museum artist in residence for the month of July 2014, where he brought his monsters and robots project to sculpted life. Melvin the Sad…(ish) Robot is the first story of its kind to incorporate Joshua ceramic sculptures into a real world setting, creating a unique visual narrative.