Literary Fiction / Military Fiction
Molly Monroe had her future planned out for her. When she makes an impulsive decision to join the Marine Corps, her boyfriend breaks up with her, her brother bears the burden of guilt, and her mother feels betrayed. The people in Molly's life have always tried to protect her, but she wants to protect herself.
As a Combat Camera Marine, Molly observes and records her environment from behind the lens, where image shapes day-to-day life. After she is wounded during a combat deployment, her dreams are frightening, and her memories are a kaleidoscope of scattered and chaotic scenes; a collision of past and present, real and unreal. Snapshots in time. Glimpses of war. Fragments of love: lost and found.
This story unfolds through multiple perspectives and as the negatives and positives develop, an image of the Model Marine is sharpened into focus.
Interview with the Author
Is There a Message in Your Novel That You Want Readers to Grasp?
There are a few messages that I hope my readers have stumbled upon by the end of Model Marine. Probably the most important to me, is the concept of perspective. Several people can experience the same event and have a completely different understanding of "the truth" of what occurred. Most people don't realize how everything they see and hear is influenced by their own experiences and relationships. Grasping that concept is key to learning empathy, teamwork, and respect, whether you agree with others' opinions or not. I hope that message comes through subtly.
There was another message I tried to convey by the way I wrote the story. There is a memory or dream at the start of each chapter. The plot does not unfold chronologically, and while the flashbacks fill in the gaps, they do not reveal everything that has occurred. I wrote the story through images: short snapshots of what each character experiences. For the reader, the story comes together in the same way you would put a puzzle together. This was intentional. I wanted my readers to get a sense of the same confusion my characters with post-traumatic stress disorder (PTSD) were experiencing. Writing it this way was a balancing act. I had to be careful not to cause too much confusion for my readers, so they would want to keep reading.
Is there anything you find particularly challenging in your writing?
Yes. Initially, I had a hard time writing Model Marine because I was looking for the most effective Point of View (POV) to write the story. I began writing it in first person, but after several chapters, I realized that I needed multiple perspectives to properly convey to the reader what was happening with my characters. Once the third person POV (of multiple characters) was established, there were several scenarios I found difficult to write. Some of the combat and funeral scenes were difficult because they resemble real-life experiences, so it wasn't unusual for me to cry violently while writing them. I also found some of the boot camp scenes difficult to write because I was looking for the most effective way to portray the boot camp experience to someone who has never experienced it.
How many books have you written and which is your favorite?
This is the only book I have written. I have a few short stories that I would have preferred to develop into a novel first. But I chose to write and publish Model Marine first because I think this message is more important and more relevant now. This book, and potential series, is the most serious of the stories I have to tell.
If You had the chance to cast your main character from

Hollywood

today, who would you pick and why?
Honestly, I would prefer to have an unknown actress portray Molly Monroe. I would want an exceptionally beautiful, 18 – 22 year old girl with blond hair and blue eyes who looks fragile. My main character is a beauty queen, who has grown up in the bright lights of pageantry, and has always been "protected" by the people in her life. Molly goes through a drastic (emotional and) physical transformation, so it would be important for the actress to also look physically fit. It would be my hope that this role would be the first major role played by the actress, and that it would launch her career.
When did you begin writing?
I've been writing since I was a teenager. Except, those years, I wrote angst-filled poetry. Writing has always been therapy for me. I've dreamed of becoming a professional writer for years, but I've always been too busy with the career fields I landed in (the Marine Corps, Information Technology, and Project Management).
How long did it take to complete your first book?
I thought so much about this book that it took me ten years to get from conception to publication. I began writing Model Marine while working on my Master of Fine Arts in Creative Writing degree. I had other stories I wanted to tell, but this one mattered most to me, so it was the one I cultivated throughout the program. But by the time I finished my degree, I had moved on to other career pursuits.
Did you have an author who inspired you to become a writer?
My desire to be a writer came from within, but there are writers who have inspired me with their plot choices or writing style. Probably the most influential for me is Jodi Picoult. I admire her ability to portray multiple points of view on tough subjects. Her characters are always empathetic, even when they are at odds with one another. That ability is what distinguishes a good writer from a great writer, in my humble opinion.
What is your favorite part of the writing process?
When you finally reach the end of the process, and you realize you are done, and it is ready for the world!
Describe your latest book in 4 words.
Emotional. Compelling. Intelligent. Page-turner!
Can you share a little bit about your current work or what is in the future for your writing?
When I published Model Marine, I thought my next book would be about a young girl named Carly Sue who was abandoned by her mother. I have a short story written about her already. However, I've received so much reader feedback looking for a sequel to Model Marine, that I think I may need to delve back into that world before completing the story of Carly Sue. I think a second book in the series would focus on the Marine Corps' Lioness program. In this program, female Marines were attached to combat units. Their purpose was to search women and children who may have been trying to smuggle money or weapons through security checkpoints. These female Marines also trained the local women (in Iraq or Afghanistan) how to conduct proper searches on other women. It was a pretty novel idea when it first began, and the program show-cased women's contributions to the military.
For right now though, I have to focus my attention on marketing Model Marine. In the fall, I'll be ready to get back to writing.
About the Author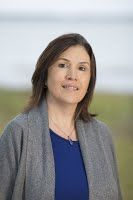 Sondra Sykes Meek is originally from Florida, but she has lived in several locations in the United States and abroad. She is a wife and mother of two, a retired Marine Corps Master Sergeant, and a Project Manager in the Defense Industry. She earned a Master of Fine Arts in Creative Writing, and has several stories in various stages of progress. She hopes to write full-time one day, but for now, she writes in the spare, quiet moments of her life.
Sondra wrote and published Model Marine: A Novel to reveal the courage and sacrifices of Marines and their families. She wanted to offer readers another kind of hero: someone who is not supernatural, immortal, or from the future. Although the events of this story are fiction, the setting and characters are influenced by her experiences as a Marine. The narrative is as authentic as it can be without excluding civilian readers. The protagonist is named after a Marine Corps icon, "Molly Marine." This is especially relevant now, as 2018 marks 100 years since the first woman joined the United States Marine Corps.
Sondra hopes all readers enjoy this emotional journey of love, loss, and sacrifice. There are real heroes hidden within the pages of her debut novel. She invites you to meet them, love them, and remember them.