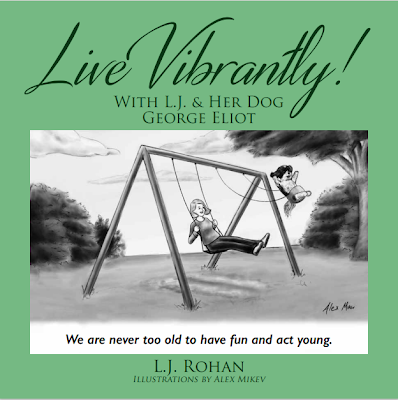 With L.J. & Her Dog George Eliot
Humor/Chick Lit
Date Published: August 11, 2020
In this collection of original drawings, LJ Rohan with her furry and endearing canine muse, George Eliot, navigates her humorous and grateful journey through life after 50. Despite inevitable setbacks, L.J. firmly believes growing older has never been healthier, more positive, or more empowered. To quote Pearl S. Buck, "The heart never grows old." To quote L.J., "Be Vibrant!"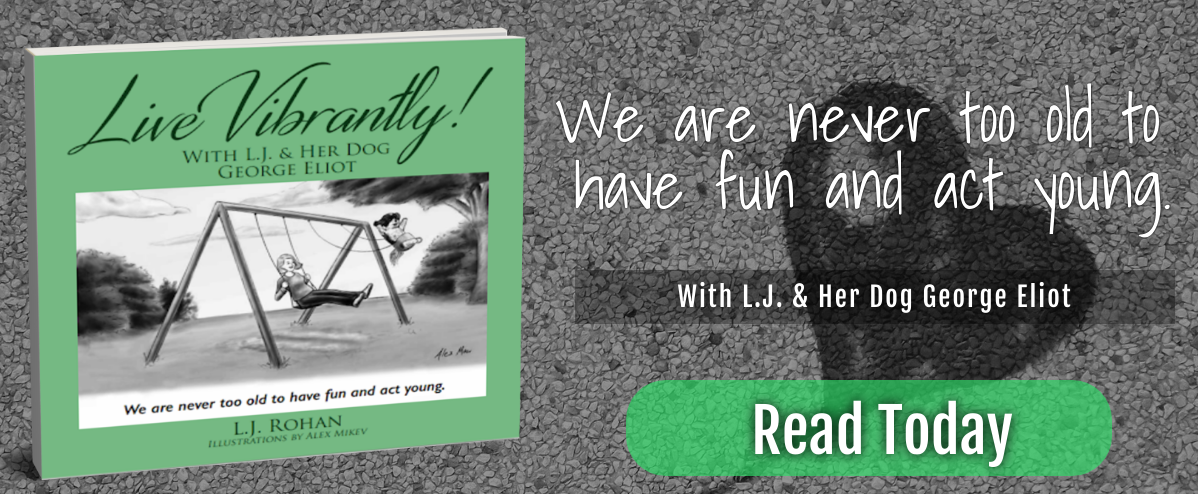 Interview
Is There a Message in Your Novel That You Want Readers to Grasp?
I hope so! I think it is to find the humor in, and embrace the good things about, get older. We are all going to age, if we are lucky, and we will have a much better time, and live more vibrantly, if we laugh at ourselves and look on the bright side. Having a precious dog at your side, like George Eliot, makes the journey so much easier and so much more fun!
Is there anything you find particularly challenging in your writing?
Finding good ideas, ones that my readers will relate to, and then successfully translating those into an illustration. I am constantly on the lookout, with my ears on alert, my eyes scanning the scene, for ideas and incidents that can be distilled into a humorous and insightful illustration.
How many books have you written and which is your favorite?
This is my first and it's my favorite, so far!
If You had the chance to cast your main character from Hollywood today, who would you pick and why?
Maybe, Laura Linney. People mistake me for her often, even though I don't think we look that much alike. We do, however, have exactly the same hair color and we are both petite! But, my personality is much more Julia Roberts.
When did you begin writing?
I write a blog every week and a few other postings to my website, FB, and IG. I have been doing that since I started my gerontology practice three years ago.
How long did it take to complete your first book?
The illustrations that comprise my book began the first week I was in practice, as part of my weekly offerings on my website, FB, and IG pages. After I had been in practice and posting for a little over two years, at the request of many of my readers, I gathered some of the best illustrations into this first volume.
Did you have an author who inspired you to become a writer?
Martha Beck and Anne Lamott have both long been she-roes of mine.
What is your favorite part of the writing process?
For this book: being inspired by something I have read or seen that makes a pitch-perfect illustration.
For my gerontology practice: I love doing the research!
Describe your latest book in 4 words.
Funny, upbeat, insightful, loving.
Can you share a little bit about your current work or what is in the future for your writing?
I envision a volume II of illustrations, like this one. At the right time, a science-based book on how women 55+ can change the course of their aging to live more vibrantly by adopting my top ten proven choices.
About the Author
L.J. Rohan is a Gerontologist, author, and speaker, covering the latest scientific research related to aging, the study of gerontology, and Aging-in-Place. She earned a Master's Level Graduate Certification in Gerontology, from the University of Southern California's Davis School of Gerontology. L.J. is also a Certified Aging-in-Place Specialist (CAPS).
L.J. holds undergraduate and graduate degrees from Southern Methodist University. She has been a frequent speaker to groups and at universities, museums, and health-related institutions throughout the United States. L.J. created a Gratitude MeditationSM app featuring her hugely popular Gratitude Meditations. The app is available in the iTunes Store and on Google Play. Visit her at LJRohan.com. Follow her on Facebook and Instagram at L.J. Rohan-Gerontologist. L.J. divides her time between Dallas and New York City.
Contact Links
Purchase Links