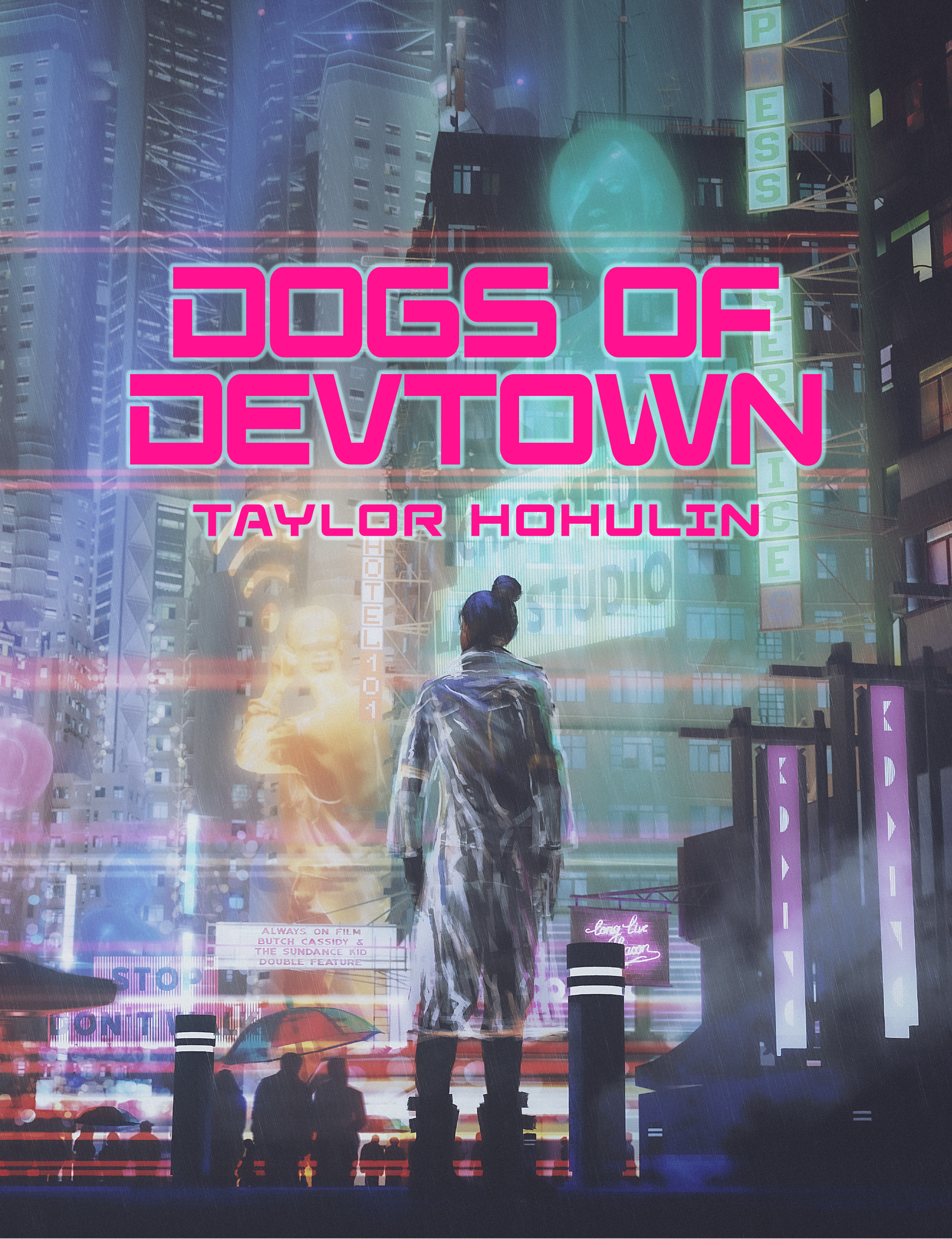 Cyberpunk Science Fiction
Date Published: April 16, 2021
Welcome to DevTown.
In this city, holo ads lumber like neon giants seeking advertising targets. Men and women pop Oracle tabs in search of relief or enlightenment or both. Creatures of unknown origin stalk the darkest alleys. In the center of it all, NexDev Tower looms over the city, home to hundreds of floors of top-secret research.
And in its shadow, Shan Hayes kills people for money.
Rejecting the mechanical enhancements so popular in DevTown, Shan needs only two things: The resynth serum that can reshape her body's entire cellular structure, and her hand-cannon containing a sentient parasite capable of converting her blood into weaponized wasps.
As a hired gun for various crime syndicates, there's little of the city's underbelly Shan hasn't encountered. But when a longtime business associate hires her to track down an underling who's vanished into the neon night, Shan finds DevTown still holds secrets more deadly and terrifying than anything she could imagine.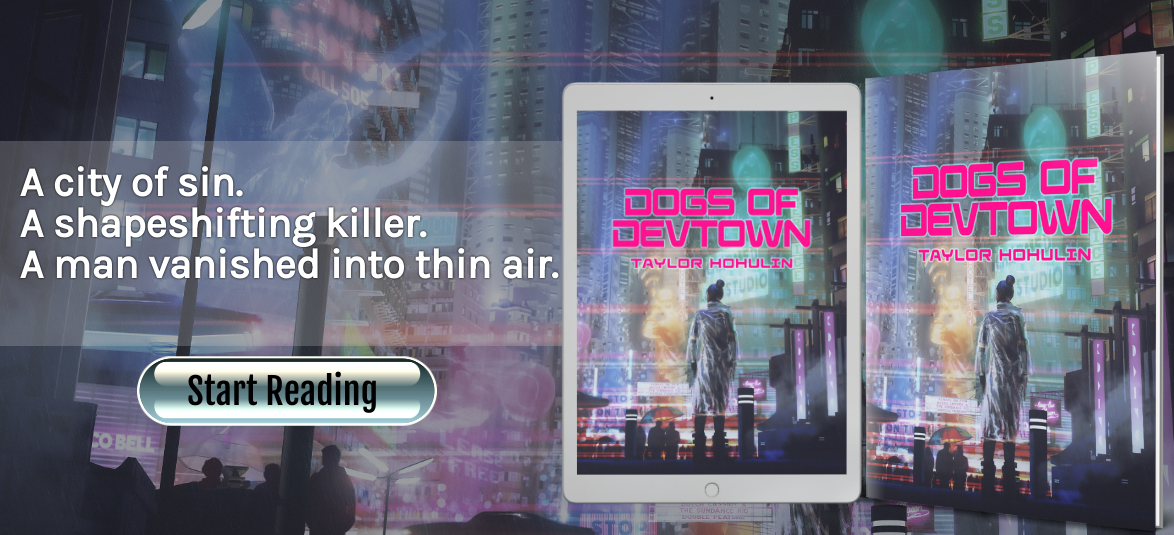 Interview
Is There a Message in Your Novel That You Want Readers to Grasp?
If I could choose one thing for readers to come away with, it would be, "Man, that was fun and weird." But for the ones who want to dig a little more, there's a thread running through about the value and inescapability of connection, both to other people and to your community. Sometimes it can feel like life would be easier if the only person you had to worry about was yourself, but not only is that just not a practical way to live, I believe it's an incomplete way to live.
Is there anything you find particularly challenging in your writing?
Lately, the hardest thing has been finding the time to sit down and focus for long enough to chrunch out very much at all. I absolutely love my day job, and the more I've grown and taken on more responsibility, the more time and creative energy I've been spending on the thing that pays my bills. I still love writing, and it's been really valuable for my mental health, but I'm having to learn how to write in those little 15-minute windows you get throughout the day.
How many books have you written and which is your favorite?
Dogs of DevTown will be my seventh full-length book. I also have three shorter works floating around, so the grand total will hit 10 on April 16. I'm usually really excited about a book I'm just about to release, so if I'm excluding Dogs of DevTown in the running for my favorite, I'm going to go with Tar. I'm incredibly proud of how the story flows and how it explores its themes—both in ways I planned and in happy accidents.
If You had the chance to cast your main character from Hollywood today, who would you pick and why?
Zoe Saldana. She brings such an understated intensity to her roles—a power-under-control vibe—that really matches up well with how Shan conducts herself in Dogs of DevTown.
When did you begin writing?
I've been writing stories since my pre-teen years. My junior high friends and I all enjoyed writing, and occasionally we wrote each other into our stories. After I got married, I decided to come back to writing and kick it up a notch, so I committed to spending a little time every day on a real, full-length novel until it was done. I shopped it to some agents and couldn't get any nibbles, so I self-published and loved the experience. I've been an indie author ever since.
How long did it take to complete your first book?
Alpha was one of the longest writing experiences, because I hadn't streamlined any pieces of the process. It was about a year and a half from the first outline to having that first paperback on my bookshelf.
Did you have an author who inspired you to become a writer?
I tend to think of Stephen King that way. I started reading It for the first time as I was starting to write Alpha, and it was my first experience with King outside of the occasional movie based on his work. I was blown away that you could write such an intense, creepy story with such a compelling structure, and yet still pack an emotional punch with the characters. I read On Writing next and really loved his down-to-earth style and simple, actionable advice. I also listened through his Dark Tower series on audiobook as I was writing my Marian trilogy, and that ended up becoming a heavy influence, both for that trilogy and other books that came after.
What is your favorite part of the writing process?
Minus the part where I muddle through the middle and hate what I'm writing, the rough draft is such a blast. Getting to dive in and explore the world I'd been dreaming about, to me, is where the most joy comes. A close second is that phase around a year after releasing a book when I've had some distance from it and get to look back at it with fresher eyes. I find a lot of the stuff I worried about doesn't matter quite as much, and there's something worth being proud of.
Describe your latest book in 4 words.
Neon noir with zombies.
Can you share a little bit about your current work or what is in the future for your writing?
I've started outlining a sequel to Dogs of DevTown. It's not so much a progression of the existing story as it is a fresh adventure for the same characters in the same setting. This has been a fun sandbox to play in, and I'm looking forward to poking around DevTown a little more.
About The Author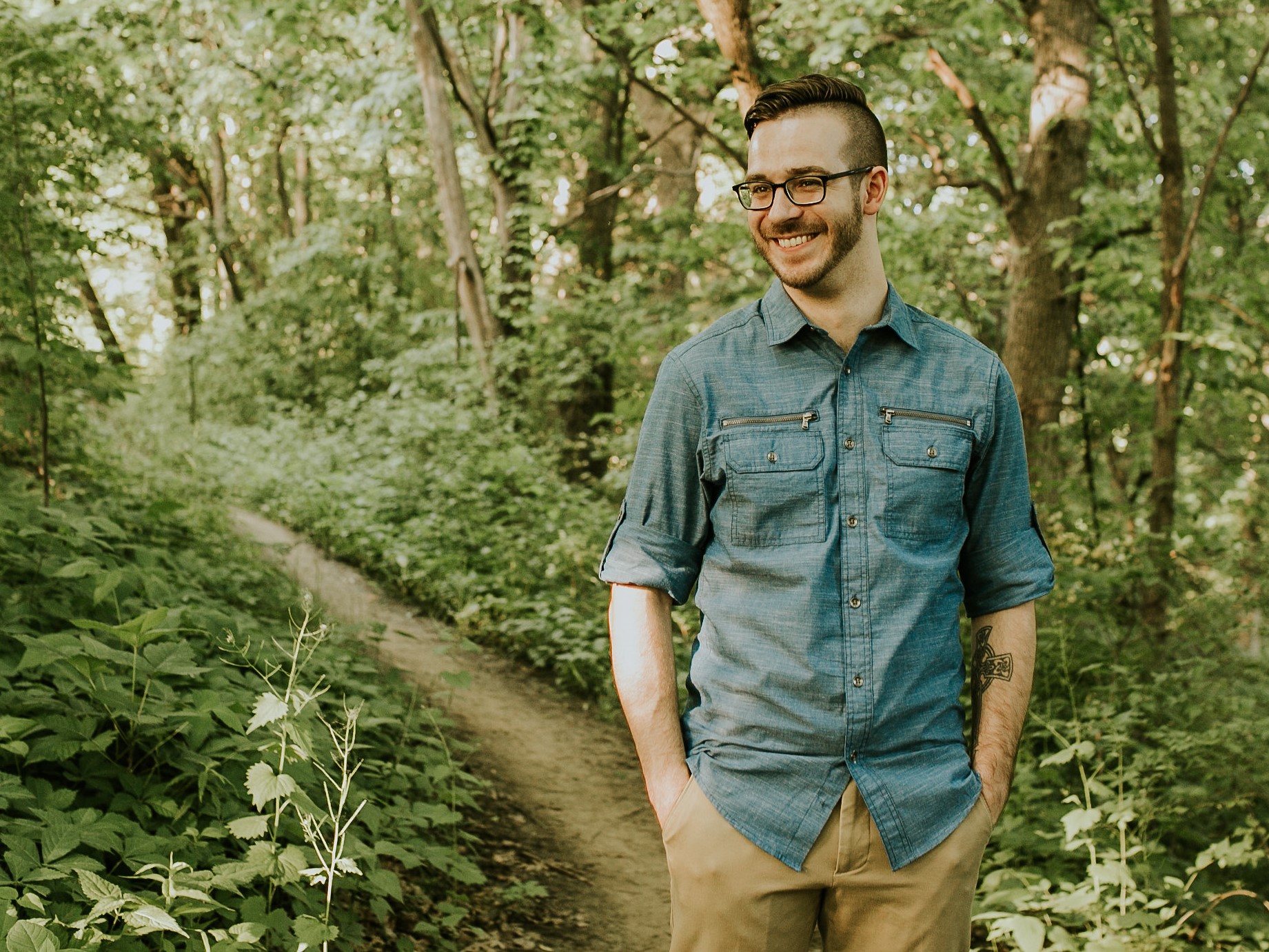 Taylor Hohulin is a radio personality by morning, a science fiction author by afternoon, and asleep by 9:30. He is the author of The Marian Trilogy, Tar, Your Best Apocalypse Now, and other genre-bending stories. He lives in West Des Moines, Iowa with his wife, where they are owned by two cats and a dog.
Contact Links
Purchase Links
a Rafflecopter giveaway