Date Published:

December 6, 2016
Publisher: Penguin/Berkley Prime Crime
While catering a gala for the Cruz Museum, Nora Charles agrees to look into the disappearance of director Violet Crenshaw's niece, a case previously undertaken by her frisky feline friend Nick's former owner, a private eye whose whereabouts are also currently unknown.
As Nora and her curious cat Nick pull at the string of clues, they begin to unravel a twisted tale of coded messages, theft, false identities, murder, and international espionage. Nora dares to hope that the labyrinth of leads will not only help them locate the missing young woman, but also solve the disappearance of the detective. That's if Nora can stay alive long enough to find him...
Is There a Message in Your Novel That You Want Readers to Grasp?
Ha ha, I guess it would be "crime does not pay"!
Is there anything you find particularly challenging in your writing?
I always find the plotting challenging. I like to make it complex but not so much so that I lose the reader.
How many books have you written and which is your favorite?
Counting the self published books, nearly a dozen. My favorite will always be the first in the Nick and Nora series, MEOW IF ITS MURDER.
If You had the chance to cast your main character from

Hollywood

today, who would you pick and why?
Emma Stone. Not only is she a great actress, but she physically embodies my vision of Nora.
When did you begin writing?
When I was ten! I wrote a fairy tale book called Twelve Tall Tales that a classmate illustrated!
How long did it take to complete your first book?
From outlne to writing 'the end' six months. If I didn't work full time I would probably have taken three.
Did you have an author who inspired you to become a writer?
Not any one author. Rather a grouping of mystery writers that included Agatha Christie, Erle Stanley Gardner and Carolyn Keene!
What is your favorite part of the writing process?
Writing "the end" on the last page!
Describe your latest book in 4 words.
Can you share a little bit about your current work or what is in the future for your writing?
Right now I just sent in the edits for Book 2 in the Cat Rescue series, DEATH BY A WHISKER to my editor at Crooked Lane. After that, it depends on whether or not CL wants to continue that series and if my agent is successful lin finding another home for the Nick and Nora series! If not, I do have another series in the works…..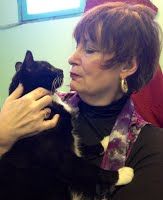 While Toni Lotempio does not commit – or solve – murders in real life, she has no trouble doing it on paper. Her lifelong love of mysteries began early on when she was introduced to her first Nancy Drew mystery at age 10 – The Secret in the Old Attic. She (and ROCCO, albeit he's uncredited) pen the Nick and Nora mystery series from Berkley Prime Crime – and the just released Cat Rescue Mysteries from Crooked Lane! The first volume, Purr M for Murder is out now! She, Rocco and company make their home in Clifton, New Jersey, just twenty minutes from the Big Apple – New York. Catch up with them at www.catsbooksmorecats.blogspot.com or at www.tclotempio.net