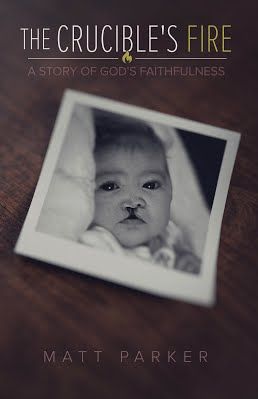 Date Published:
Nov. 30, 2018
After having several children, parents often feel well-equipped to take on the challenges of another child. When Matt and Tammy Parker decided to add a child to their family, they had little idea of the blessings and struggles God had in store for them. The Crucible's Fire paints a picture of God's steadfast love through trials as he holds one family in the loving and protective crucible of his faithfulness. Readers will learn:
· The raw emotion of unexpected hardship
· How to rely on God for strength
· The beauty of God's faithfulness when it seems all hope is lost
· How to trust in God through their own dark night of the soul
· The sanctification that comes only through the refining fire of trials
· Strengthen your own trust in God's refining faithfulness as you join this family through the joys and pains of raising a special needs child.
Interview
Is There a Message in Your Novel That You Want Readers to Grasp?
Yes. I want the reader to understand that trial and hardship is not only a ubiquitous part of human experience, but it is also uniquely a tool used by God to refine and transform us into a clearer reflection of the Son. It isn't to be feared, but as Paul instructs us, to be met with joy and praise, even in the darkest nights of the soul.
Is there anything you find particularly challenging in your writing?
Finishing! I always think of more details, more events, more stories, more something. I have to force myself to stop working on the piece sometimes and work for completion. I constantly rewrite and rewrite, which can impede progress sometimes.
How many books have you written and which is your favorite?
Just the one, so far. So, I guess this is my favorite, but I have a couple more in t
he works, so I'll revisit this when they are finished.
If You had the chance to cast your main character from Hollywood today, who would you pick and why?
That's a tough one. Since Brynna is the main character, I really am not sure. Probably Sophia Lillis. She looks alot like my daughter. If I could cast my wife and I, I would choose Sean Penn and Sandra Bullock.
When did you begin writing?
I started writing as a young boy. I remember writing a story about three boys, like me and my brothers, on a scary adventure in the dark forest. I friend of the family titled it "Three Dog Night." I had no idea what that meant at the time. :)
How long did it take to complete your first book?
The book was a complilation of ten years of journal entries, emails, and blog posts, but once I started putting it all together, I was ready for print in about 3 months.
Did you have an author who inspired you to become a writer?
Yes. I love reading CS Lewis. His command of the English language inspires me.
About the Author
Matt Parker serves as a high school teacher in rural East Texas and has served as a bi-vocational minister for almost 25 years. He has recently retired from pastoral ministry to develop discipleship materials to encourage the saints and help deepen their walk with the Lord. He is married to Tammy, his high school sweetheart, and together they have four biological children, three adopted children, one granddaughter, and serve as foster parents.
Their youngest daughter, Brynna, was born with severe physical and developmental delays. Over the past decade, Matt has kept friends and family updated on her condition, progress, and their sanctification through email and his ministry blog at The Crucible's Fire.