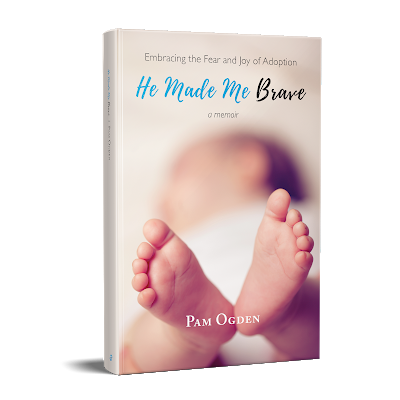 Non-Fiction - Parenting, Christian Living, Inspirational
Date Published:
June 14, 2018
This is not a fairy tale--but it does have suspense, humor, a quest, and a happy ending. When Jason and Pam Ogden decided to adopt a baby, they had no idea that their adoption process would stretch over a period of two years, and that their baby would be a toddler by the time they were able to bring him home. Taken straight from Pam's personal travel journal, He Made Me Brave chronicles the long-awaited emotional trip she and her husband took to South Korea to meet their new son. Through these powerful journal entries, you will:
· Experience Pam's fear, grief, anticipation, and joy as you read her private, honest thoughts.
· Discover the challenges faced by these adoptive parents as they started the bonding process.
· Be encouraged by God's sovereignty and power over anxiety.
He Made Me Brave is the touching memoir of a mother defying fear to be united with the little boy she had been dreaming of for two years, and an account of hope fulfilled.
Interview
Is There a Message in Your Novel That You Want Readers to Grasp?
I hope that while my readers are enjoying a virtual trip across the world with me, they are also getting a realistic picture of the challenges that adoptive families and toddlers face. When we were adopting, there weren't many detailed personal accounts of what those first few days with our little boy would be like. Underlying that, I hope our story will highlight the problems that delaying placement until a child is a toddler create. The world of international adoption is changing and those changes are making things more difficult for both adoptive parents and the children involved.
Is there anything you find particularly challenging in your writing?
The most challenging part of writing for me right now is just finding the time. I'm a full-time mommy to five children, and managing all of their schedules doesn't leave me much free time. I'm always narrating my own story in my head though, and I jot down thoughts, descriptions, and beautiful phrases in a journal app on my phone; so in a sense, I'm always writing.
How many books have you written, and which is your favorite?
"He Made Me Brave" is my first book. I have always wanted to write, but adopting my son finally gave me something to write about. I am thrilled the book has had such a positive response.
If you had the chance to cast your main character from Hollywood today, who would you pick and why?
My main character is myself! If I was able to choose a celebrity, I would choose Nicole Kidman because she has a calm presence, but I have read that her true personality tends to be introverted and shy. Also, she's gorgeous.
When did you begin writing?
I have loved to write stories since I was little. In high school I also learned to love crafting a well-organized essay, and I have journaled for most of my life.
How long did it take to complete your first book?
Technically, it took me about five years because I wrote the journal entries that compose most of it during our trip to Korea to pick up our son. But once I decided to turn the entries into a book, it only took me about a month to put it all together.
Did you have an author who inspired you to become a writer?
I love Joan Aiken and Annie Dillard. Joan Aiken's characters feel like good friends, and Annie Dillard shows us her world in details that give it all meaning, like a grand mystery.
What is your favorite part of the writing process?
I love really looking at something and challenging myself to describe it in a way that makes someone else experience it the same way I do. I love seeing all the little pieces come together and creating something meaningful.
Describe your latest book in 4 words.
Journey, fear, grief, joy
Can you share a little bit about your current work or what is in the future for your writing?
We are in the process of adopting again, and my hope is to be matched with a baby and then write about that process, too. It is getting harder and harder for families to offer homes to the children who need them. I would love to offer support for adoption however I can.
About the Author
Homeschool mom and pastor's wife Pam Ogden had dreamed of being a mom since she was a little girl. She and her husband wanted six children, but their plans were waylaid when high-risk pregnancies and premature births threatened their first four babies. In 2012, they adopted their son, and in 2017, they started the process to adopt one more child. Pam graduated with honors from George Fox University, receiving a Bachelor's degree in Writing and Literature, and a Master's degree in Counseling. Pam loves her small town life in Sweet Home, Oregon, with her husband, Jason, and their five children, Kelly, Luka, Ivan, Ember, and Hudson. Pam and Jason hope to add one more child soon.