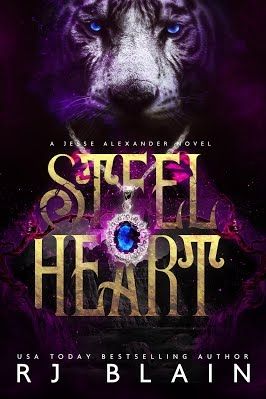 Publisher: Pen & Page Publishing
Date Published: December 25, 2019
With the Hope Diamond locked around her throat, Jesse Alexander finds herself in the unfortunate position of being a walking national treasure. With the Starfall stone poised to pulse and flood the world with more of its magic, she must figure out how to remove it before she becomes its pawn yet again.
Unfortunately, the stone has a mind—and plans—of its own. Add in a determined tiger, a wolf out for revenge, and an ultimatum to find her clan's missing Starfall stone, and it will take all of Jesse's wit and cunning to survive with her life—and her heart—intact.
Interview
Is There a Message in Your Novel That You Want Readers to Grasp?
In Steel Heart, I didn't write the book specifically to have a message for readers, although they are in there. If I had to pick one, I would say it's about theme of the family your heart picks, and sometimes, that family can be flesh and blood, but it's often not.
There are other messages lurking in the pages, but they would spoil the book, so I'll keep those to myself.
They are in there, though.
Is there anything you find particularly challenging in your writing?
While writing Steel Heart, I had to constantly go back and forth in the book to make sure everything stayed consistent. The book was feral. I like it a lot, but while writing it? I was certain that the book was out for my blood, and that it would leave my lifeless corpse on the ground in its wake.
I'm really happy with the results, but the entire danged thing was a challenge to write. It's hard to pick something that's particularly challenging because every book has different challenges. Every book is different. Some days, I can't describe my way out of a cardboard box. Other days, my characters wish to commit emotional suicide and want me to join them in death. (They can be real jerks at times.)
How many books have you written and which is your favorite?
Honestly, I've lost count of the number of books I've written. It's more than 30. Maybe 40 by now. I tried to count them, but my brain froze at the thought of trying to figure out what I've accomplished since beginning my writing career. I'm going to guess somewhere between 30-40 books now, however.
As for which one is my favorite, that's a very good question. It changes. Right now, Steel Heart is my favorite despite it having come into the world feral and possibly rabid. (It has bitten, it will bite again… and it will make me like it.)
Some days, Books like Blending In are my favorite; light, fluffy, and just a pure joy from start to finish. Some books never make the favorites list, though. I won't say which ones, because they're fan favorites, and I wish to survive.
If You had the chance to cast your main character from

Hollywood

today, who would you pick and why?
No idea. I don't watch television or go to movies. Can I be the t-rex or velociraptors from Jurassic Park? They win. (I have seen all of the Jurassic Park/World movies, and I love watching dinosaurs eat people.)
When did you begin writing?
I started after I graduated high school for the most part. I had dabbled during school, but it doesn't really count for me.
How long did it take to complete your first book?
72 hours. I got sick and tired of never finishing anything, so I decided I was going to finish something. 72 hours and 66,000 words later, I had finished my first book.
Did you have an author who inspired you to become a writer?
Madeline L'Engle and Mercedes Lackey. Without them, I woudn't have become a reader—and if I'd never been a reader, I never would have become a writer.
What is your favorite part of the writing process?
I really love the entire process, even editing. I'm very fortunate. Editing can be painful at times, though—but I'm constantly editing while I'm writing, so it's hard to distinguish any part of the process. Though, there is always something elating and terrifying about hitting the 'publish' button.
Describe your latest book in 4 words.
Has bitten, will bite again. Yeah, that was five words, but I'm cheating, because that really sums up my feelings about Steel Heart. Badass Tigress Saves Day also applies.
Can you share a little bit about your current work or what is in the future for your writing?
I'm currently working on Blood Bound: a Lowrance Vampires novel. I needed a change of pace, so I decided I would play with vampires. I'm having a great time with it.
As far as moving forward, I have a huge list of books I want to, and I never have enough time to work on it. I'll just be writing and doing the best I can. I'm grateful writing is my day job and I get to do what I love every day—even on the days where the book has become feral and is out for my blood.
About the Author
RJ Blain suffers from a Moleskine journal obsession, a pen fixation, and a terrible tendency to pun without warning.
In her spare time, she daydreams about being a spy. Her contingency plan involves tying her best of enemies to spinning wheels and quoting James Bond villains until satisfied.