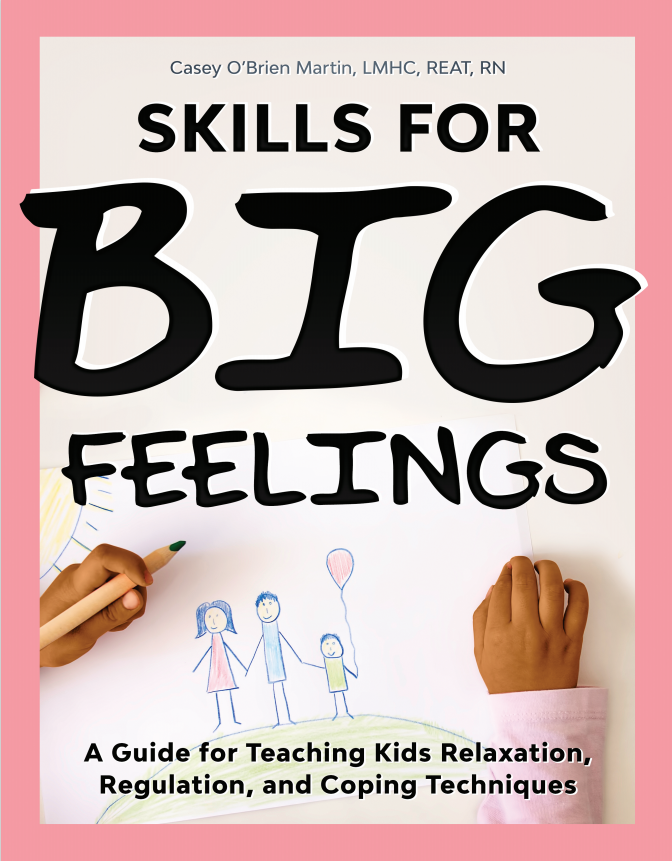 A Guide to Teaching Kids Relaxation, Regulation, and Coping Techniques
Nonfiction; Education; Psychology; Child Development
Release Day: December 7, 2020
Publisher: Whole Child Counseling
Help children develop healthy coping skills with this brilliant 12-week plan.
Are you an educator or mental health professional searching for guidance? Do you want to discover a powerful all-in-one program for helping kids manage their anxiety, regulate their emotions, and cope with their feelings? Then Skills for Big Feelings is the book for you!
Inside this heartfelt, comprehensive guide, you'll join School Adjustment Counselor and Licensed Mental Health Counselor Casey O'Brien Martin as she reveals a powerful, practical framework to help children cope with anxiety, overcome stress, and learn to thrive. Built on a selection of proven cognitive behavioral techniques, breathing exercises, and mindfulness, as well as engaging activities including stretching, gratitude, visualization and positive self-talk, Skills for Big Feelings seeks to empower kids to embrace their emotional growth over the course of a comprehensive 12-week plan.
With over a dozen activities including accepting mistakes, identifying support systems, acknowledging triggers and much more, this complete guide provides educators and professionals alike with a detailed, objective-based framework for promoting optimal social-emotional health.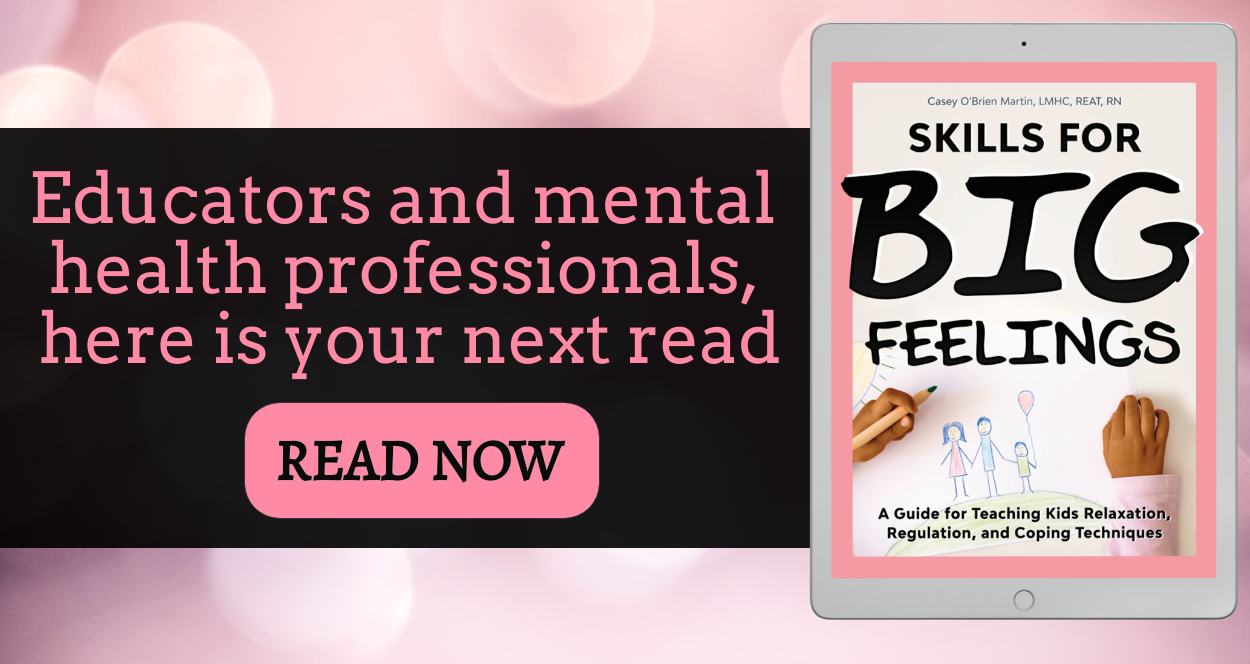 Interview
Can you tell us a little about the process of getting this book published? How did you come up with the idea and how did you start?
I was working as a School Adjustment Counselor in an elementary school and I heard a story of trauma that a student had been exposed to. The student had never been identified as someone who needed mental health support. She was never brought to my office, probably because she never acted out.
I realized then that I needed to take on more of a tier-one, school-wide preventive approach to mental health care so the children who externalized their behavior and acted out were not the only ones who were receiving my support and learning these important relaxation coping skills. I wanted to ensure I was supporting all children, even the ones we did not know were struggling. I believe all children should be taught social-emotional skills, including the ability to understand their thoughts, feelings, and behaviors. So, the book was written to be skills-based and very practical. I wanted to create something that could implemented on a much wider scale and used by other people – not just counselors.
I decided to self-publish this book when I started getting feedback from families about the progress that their children were making at home when they were doing this program. I wanted to be able to help more kids, beyond just the students in my school.
What surprised you most about getting your book published?
I was shocked at how long the whole process takes! There are just so many steps! I was so naive and thought once my manuscript was complete, it would be published right away.
Tell us a little about what you do when you aren't writing
I'm a Registered Expressive Arts Therapist so I love anything creative! When I'm not writing I like to create and appreciate all of the arts. I have 2 kids, 6 chickens, and a dog so they keep me very, very busy! I also teach at a University part-time and work full-time as a school counselor. I am a life-long learner, so in my free time, I love to study about different topics. For the past several years I have been passionate about learning about complementary and alternative medicines like aromatherapy and herbs.
As a published author, what would you say was the most pivotal point of your writing life?
I was really nervous to put my work out there and into the world. It still feels really scary to me! So when I started contacting professional authors in the counseling psychology field whom I admire, and asked them if they were willing to read my book and get their thoughts... I was terrified! I felt so vulnerable, but I am so glad I took that risk because I was able to grow so much from that experience. Their feedback was extremely valuable to me.
Where do you get your best ideas and why do you think that is?
I get my best ideas from my own children and the kids I work with. They inspire me every single day! For example, there is a relaxation coping skill in the book called Unicorn Breath. I drew this because so many kids love unicorns! They'll come in wearing a Unicorn backpack or shirt, and paying attention to what the kids is helpful to me. I have found that when you are able to create resources and coping tools that the kids are interested in and resonate with, they will be much more willing to use them!
What is the toughest criticism given to you as an author?
I initially started querying agents and I think the initial rejection was really hard. Most of them wouldn't even say no - they just wouldn't even respond back at all! So there were a lot of unknowns there. When I decided to go straight to publishers myself without an agent, they expressed a lot more interest in my work. In the end, I decided to self-publish but it was a growing experience to go through those steps and learn how the publishing industry works and how to handle that initial rejection. You can't just hear no and give up on your dreams. I have big goals to help many children throughout the world with this program, so it would be irresponsible for me to give up so easily!
What has been your best accomplishment as a writer?
Finishing this book to completion! I start a lot of projects and don't always finish them!
How many unpublished and half-finished books do you have?
I have another book that is about half way finished. It's a curriculum with expressive arts therapy interventions (like art therapy, drama therapy, etc.) that can be used with kids in the schools. It has a lot of really fun, creative activities I have done with my own students so I think people will enjoy it, whenever I can get it done.
About the Author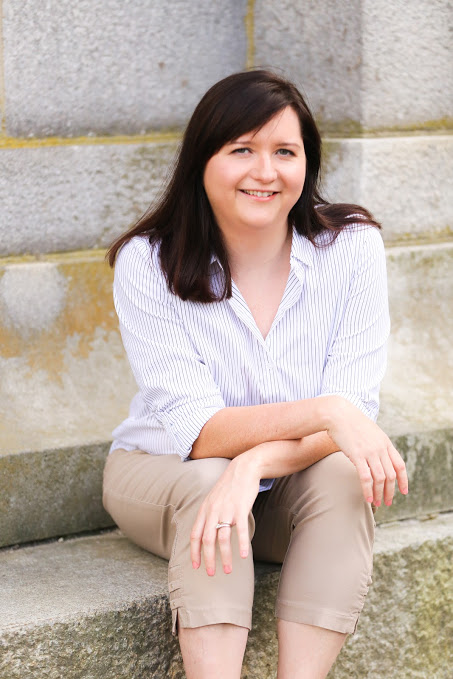 Casey O'Brien Martin, LMHC, REAT, RN is a School Adjustment Counselor, Licensed Mental Health Counselor, Registered Expressive Arts Therapist, and a Registered Nurse with a passion for helping children develop healthy coping skills and grow into confident, happy individuals.
Casey draws on her unique skillsets and interest to create mind-body programs designed to promote holistic wellbeing and emotional regulation in children of all ages, helping them to achieve their highest potential. She believes that teaching kids how to cope with anxiety and understand their feelings is an essential part of their personal growth, and she's honored to be a part of this invaluable process.
Casey graduated from Lesley University, where she currently serves as an Adjunct Faculty Member in the Graduate School of Arts and Social Sciences. For more information, visit www.wholechildcounseling.com.
Contact Links
Purchase Link
a Rafflecopter giveaway