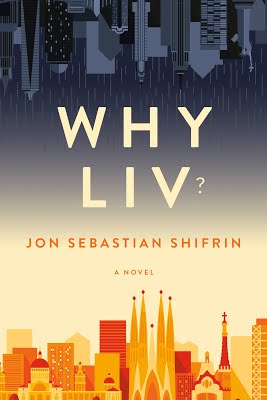 Young Adult (fiction)
Date Published:
October, 2019
As a twenty-something corporate employee with a doctor-in-training girlfriend, Livingstone Modicai Ackerman—Liv, to his friends—personifies success. Yet all is not as it seems. His job is tedious and soul-gutting, his girlfriend is a vacuous, image-conscious snob, and, meanwhile, his pathologically narcissistic parents are constant irritants. Add to this the febrile political climate dominated by a reactionary group, the Patriot Posse, led by a mendacious radio personality with outlandish hair and catchy campaign slogan to "Make America Great Again," is a presidential candidate—and he's winning!
Overwhelmed and struggling to maintain a sense of dignity and worth, Liv quits his job, breaks up with his girlfriend, and leaves for Spain to explore the existential question: Why live?
Told with humorous charm and wit, Why Liv? examines why modern work is so devoid of purpose and why reactionary politics is so alluring in America. Most of all, it humbly attempts to offer a reason to persevere during difficult times.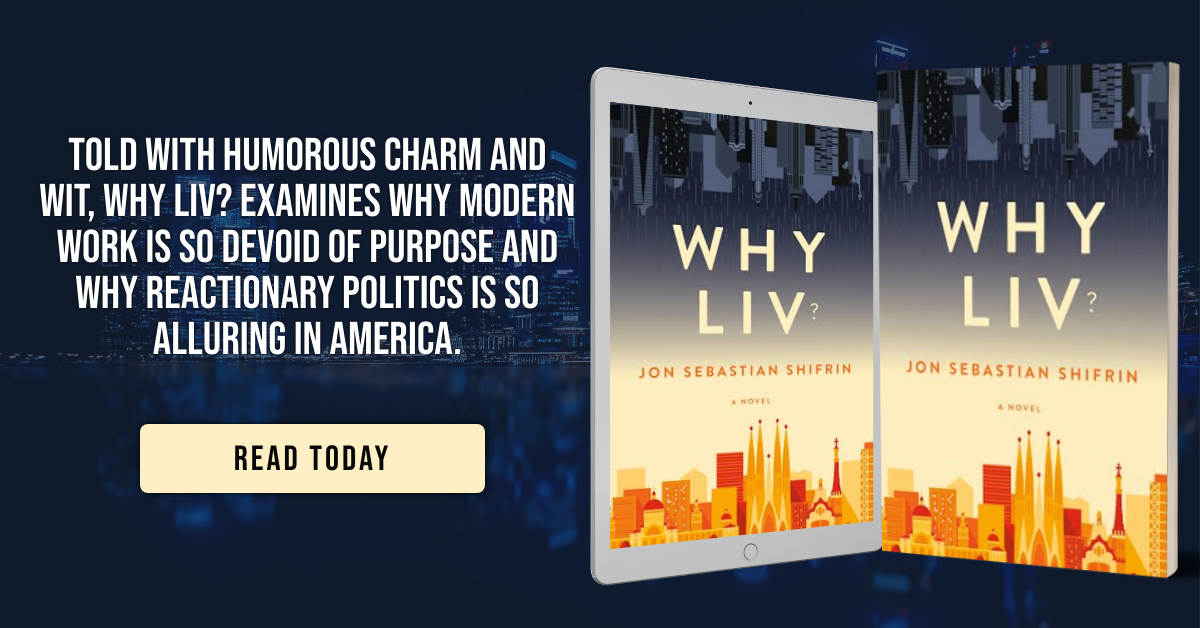 GUEST POST
Pet Peeves of the Publishing Industry
Writing may be an art but publishing isn't. It's a business. And a lucrative one at that: The million-plus books published last year in the United States generated revenues exceeding $25 billion. That may sound promising to an aspiring writer, but statistics, as Mark Twain reminded, can lie. Roughly half of all books that are published lose money and most of the remainder break even. Only around five percent turn a profit. Consequently, publishers rely on a few blockbusters to offset the many duds. In other words, the industry isn't looking for the next Great Gatsby, which initially sold poorly, but rather the second coming of Fifty Shades of Grey.
Novels with artistic pretensions, therefore, face daunting odds. Sure, the occasional work of literary genius may become a bestseller, but that's the exception. Mostly, it's genre fiction like romance of the corniest variety that generates big returns and thus is prized by publishers. Think of it like the food service industry where the likes of McDonald's reign supreme, not restaurants serving fine French cuisine. It's a race to the bottom. That's capitalism.
Some aspiring writers, apprised of what sells, may focus their efforts on the tried and true, stamping out hot-blooded Danielle Steel-like page-turners, or adventures involving wizards inspired by Harry Potter. Yet many other writers trying to break into the literary market likely will do the same, making for stiff competition. Standing out isn't easy in such circumstances; build the same mousetrap and the world probably won't beat a path to your door. What then is an aspiring writer to do?
Those compelled to write by a deep-seated artistic drive won't be deterred. They'll labor away regardless. Such is the creative urge. The same is true for those more commercially oriented. They'll also persevere, albeit for pecuniary reasons. Whatever their motives, however, aspiring writers seeking their moment in the sun should think twice about quitting their day jobs—few win the literary lottery. Better to curl up with a book than try and publish one.
About the Author
Jon Sebastian Shifrin is a writer plying his trade in Washington, DC. His work has appeared in The Baltimore Sun, The Hill, Reunion: The Dallas Review, The Missing Slate, The Indian Review, and Futures Trading. Jon also is the founder of the popular current events website, The Daily Dissident (www.dailydissident.com). His non-literary career in politics has taken him from the White House to Capitol Hill to think tanks in Washington and Europe. To learn more about Why Liv?, visit www.whyliv.com.
Contact Links
Purchase Links