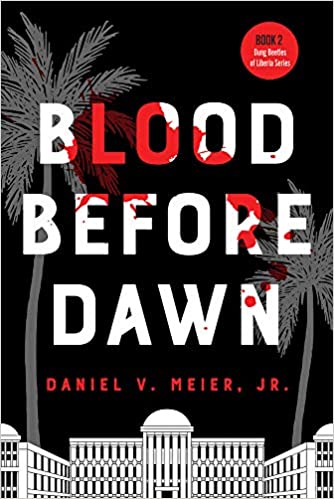 Book 2 of the Dung Beetles of Liberia series.
Political/Historical Fiction
Date Published 12-15-2021
Publisher: Boutique of Quality Books (BQB Publishing)
April 1979: Ken Verrier and his wife, Sam, return to Liberia to buy diamonds. They did not return to get caught up in a rice riot and a coup d'etat. But that's what happens. Ken witnesses and unwittingly participates in a period of Liberia's tumultuous yet poorly documented history---the overthrow of the Tolbert presidency and ultimately the end of the Americo-Liberian one hundred thirty-three years of political and social dominance.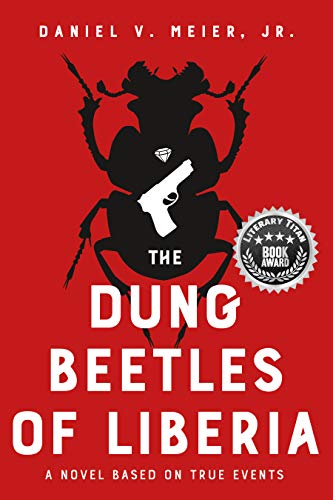 2019 Grand Prize Winner - Red City Review
Based on the remarkable true account of a young American who landed in Liberia in 1961.
The blend of fictional action and nonfiction social inspection is simply exquisite, and are strengths that set this story apart from many other ficitonal pieces sporting African settings. - D. Donovan, Midwest Book Review
NOTHING COULD HAVE PREPARED HIM FOR THE EVENTS HE WAS ABOUT TO EXPERIENCE. Ken Verrier quickly realizes the moment he arrives in Liberia that he is in a place where he understand very little of what is considered normal, where the dignity of life has little meaning, and where he can trust no one.
It's 1961 and young Ken Verrier is experiencing the turbulence of Ishmael and the guilt of his brother's death. His sudden decision to drop out of college and deal with his demons shocks his family, his friends, and especially his girlfriend, soon to have been his fiancee. His destination: Liberia---the richest country in Africa both in monetary wealth and natural resources.
Author Daniel Meier describes Ken Verrier's many escapades, spanning from horrifying to whimsical, with engaging and fast-moving narrative that ultimately describe a society upon which the wealthy are feeding and in which the poor are being buried.
It's a novel that will stay with you long after the last word has been read.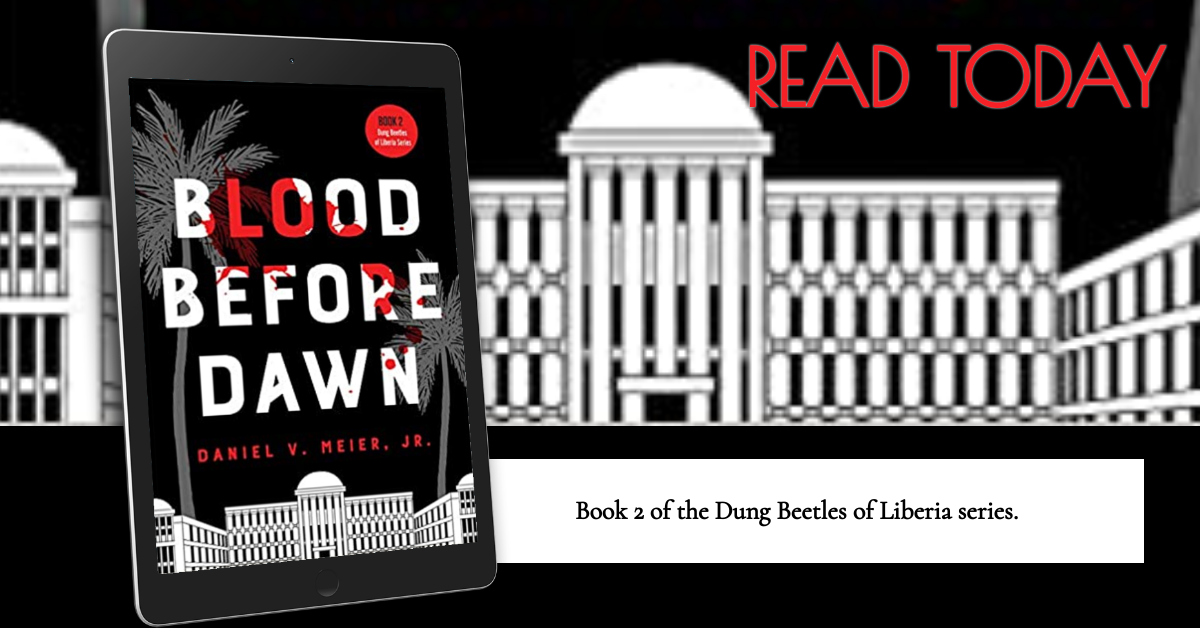 Interview
Is There a Message in Your Novel That You Want Readers to Grasp?
In BLOOD BEFORE DAWN It's the suggestion of a nation in crisis and the way that, in games of power, it's the citizenry who suffer the most.
"Life is hard and life is cheap," Ken thinks, after watching the offhand execution of a mine worker. "It doesn't pay to break the rules."
Is there anything you find particularly challenging in your writing?
I find that getting started with a plan for the entire book is a challenge. I'd like to say that I write an outline and follow it throughout the book. But I often don't. I begin with an idea—stimulated by something in the human condition—and it develops from there. The outline exists, but usually, only in my head. And the characters develop on their own and reintroduce themselves repeatedly throughout the book.
How many books have you written and which is your favorite?
I've written five published books:
MENDOZA'S TREASURE: Mystery/thriller 1980
THE DUNG BEETLES OF LIBERIA, A Novel Based on True Events: Historical Fiction, 2019
NO BIRDS SING HERE: Historical Fiction, 2021
BLOODROOT: Historical Fiction, 2021
BLOOD BEFORE DAWN, Historical Fiction and the sequel to THE DUNG BEETLES OF LIBERIA December 2021
Asking me to tell you which one I like best is like asking a mother which child she loves best. All the books have their own separate identities, and I am very proud of them all.
If You had the chance to cast your main character from Hollywood today, who would you pick and why?
Henry Cavill, the actor being considered for the next 007. For all of the obvious reasons!!
When did you begin writing?
I started writing in my twenties, when I was in college. I was a History major, but took a lot of literature classes also. I started submitting my work in the college literary magazine and later I worked briefly as a journalist for The Washington Business Journal. In 1980, Leisure Books published a mystery/ thriller, MENDOZA'S TREASURE, that I wrote under the 'nom de plume' Vince Daniels.
How long did it take to complete your first book?
MENDOZA'S TREASURE, being a 'genre' book took about 3 months to write. My later novels that were more in depth and complex took from one to two years to complete.
Did you have an author who inspired you to become a writer?
In college, when I was first inspired to write, I was inspired by the work of Thomas Pynchon. His work is dense and complex, and his work encompass a vast array of genres and subject matter.
What is your favorite part of the writing process?
The thrill of "throwing words on paper!" It is an engaging and thoroughly satisfying experience.
Describe your latest book in 4 words.
A THRILLER with HUMANITY, REALISM and HISTORY
Can you share a little bit about your current work or what is in the future for your writing?
My "work in progress" is the third book in the DUNG BEETLES OF LIBERIA series. It is titled TO KNOW GOOD AND EVIL, and it takes place during Liberia's First Civil War in December of 1989. It is genuinely an evil time in Liberia's history and a very charismatic Charles Taylor leads the charge. As I said, this is a work in progress, and as such, I am searching to find a hopeful and rewarding story within the confines of the surrounding carnage.
About the Author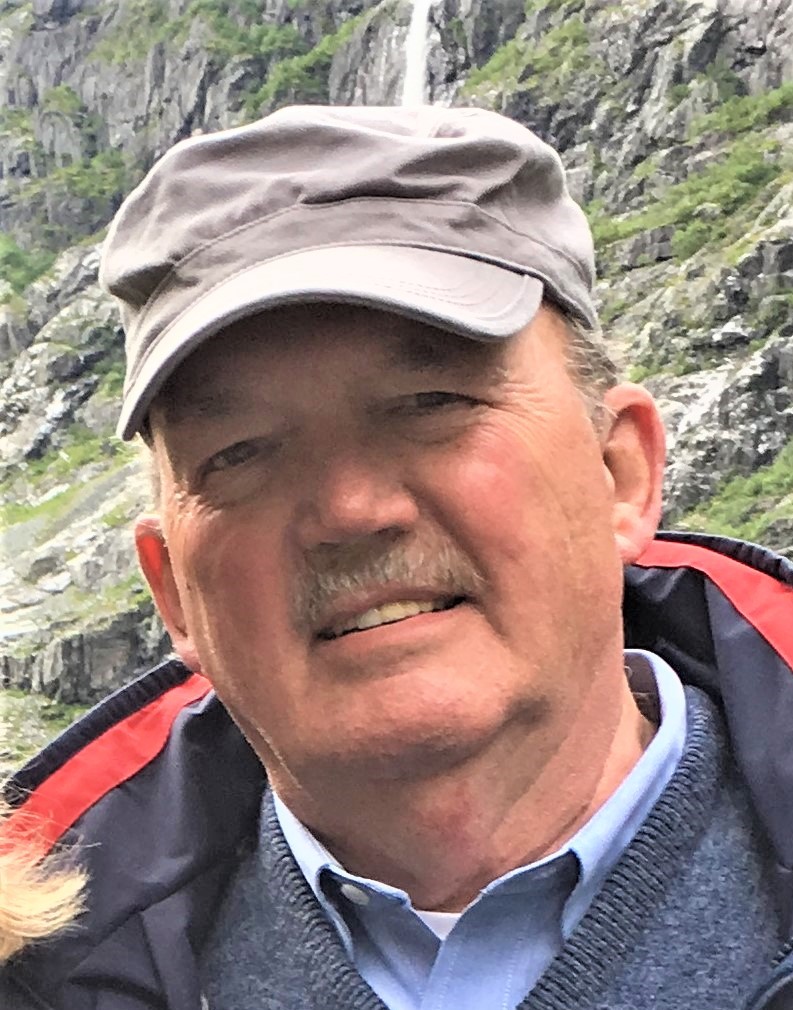 A retired Aviation Safety Inspector for the FAA, Daniel V. Meier, Jr. has always had a passion for writing. During his college years, he studied History at the University of North Carolina, Wilmington (UNCW) and American Literature at The University of Maryland Graduate School. In 1980 he published an action/thriller with Leisure Books under the pen name of Vince Daniels.
Dan also worked briefly for the Washington Business Journal as a journalist and has been a contributing writer/editor for several aviation magazines. In addition to BLOOD BEFORE DAWN, he is the author of its prequel, the award-winning historical novel, THE DUNG BEETLES OF LIBERIA, as well as 2 other highly acclaimed novels published by Boutique of Quality Books (BQB Publishing).
Contact Links
Purchase Links