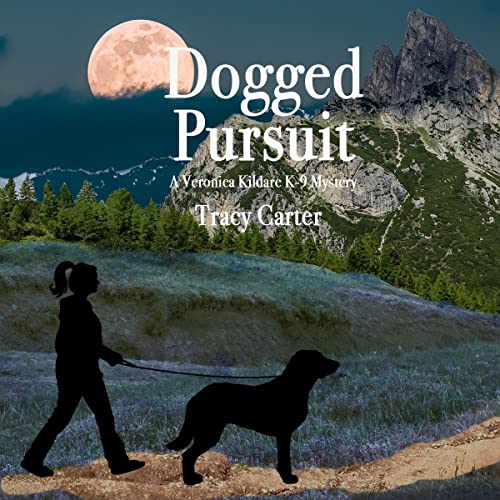 A Veronica Kildare K-9 Mystery, Book 1
Mystery, Thriller & Suspense
Date Published: March 22, 2023
Narrator: Alyssa Baumann
Run Time: 11 hours, 4 minutes
"An action-packed adventure blended smoothly with mystery and hope.... The character development is well done and complete.... The plot twists...are smooth and deliberate. Carter did an excellent job of making the story feel authentic and realistic through dialogue and rich imagery. It was well-written, and engaging and the narrator was the right fit!.... Alyssa Baumann captured and projected the personality of Veronica perfectly. She is very adept at projecting emotions and situations in a clear and intense manner. The excitement and energy she brought to the book were spot-on." — AudioBookReviewer
The debut book in the Veronica Kildare K-9 Mystery series opens with escalating suspense and intensifies into a resilient fight for survival. With its engaging combination of canine and human personalities, thrilling plot, and gorgeous Colorado backdrop, Dogged Pursuit will appeal to dog lovers, outdoors enthusiasts, and mystery lovers alike.
Veronica Kildare cannot believe her luck–being shot at, again, by the bad guys. The sound, the feel of the bullet, and the hatred resonate for more than just the transitory moment of impact. She has relocated to a new state, but brutality has rampaged into this life as well. As the survivor of a senseless act of violence in her former life, Veronica struggles to recover from the lingering physical and emotional scars by working as a dog handler near Boulder, Colorado. Empowered by her intense bond with her search and rescue and drug detection dog, Leda, she finally begins to shake off the pain of her past. Then Veronica is drawn into the puzzling search for a scientist who has vanished near Rocky Mountain National Park.
Dr. Randy Jeffers has inexplicably disappeared on the eve of his testimony in the high profile murder trial of a pro basketball player and the police are baffled. As Veronica and Leda traverse rugged Roosevelt National Forest in a desperate search testing the limits of their abilities, it is not initially clear who has targeted Dr. Jeffers, or why. But it becomes shockingly obvious that someone will stop at nothing to silence him forever. The kidnappers with murder on their mind have guns, but Veronica has Leda and her own blossoming resilience as her weapons in their struggle for survival.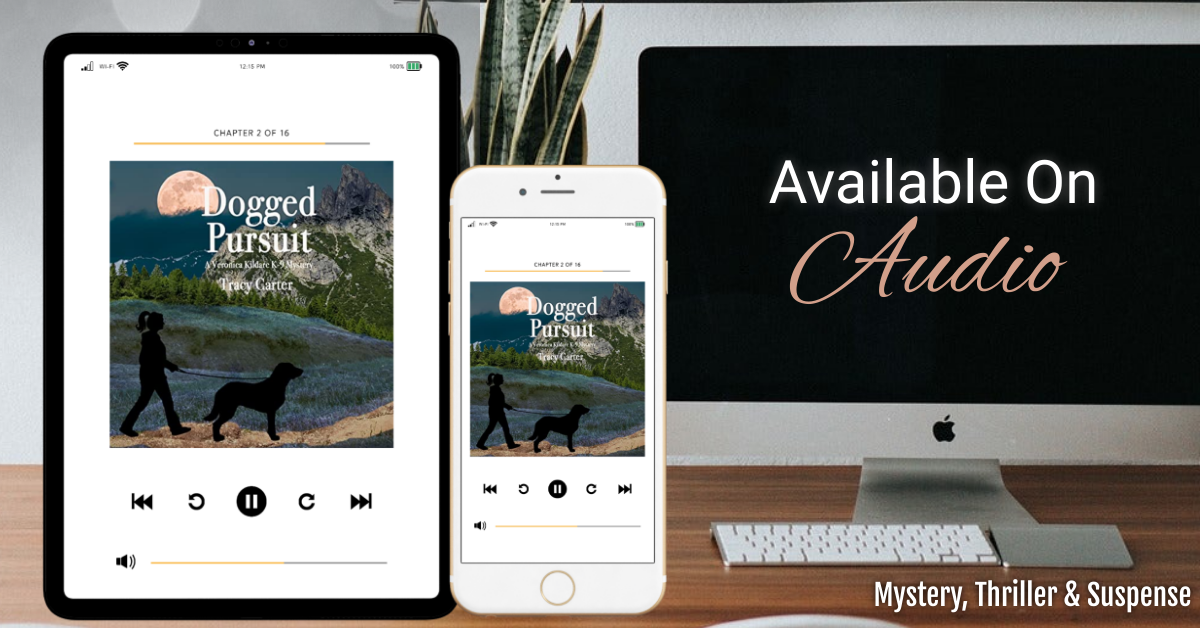 Interview
Is There a Message in Your Novel That You Want Readers to Grasp?
At its heart, DOGGED PURSUIT is the story of the powerful, healing relationship between a mistreated former rescue dog and her traumatized owner. Working as a team with an unbreakable bond, Veronica and Leda search for lost individuals and illegal drugs in Colorado, and make each other stronger as time passes. Dogs are simply phenomenal, and I want the novel to showcase how the love between dogs and their humans is a mighty force for good.
Is there anything you find particularly challenging in your writing?
For me, writing descriptions of scenery or atmosphere probably slowed me down the most. It is a definite talent to be able to memorably set a scene or convey a mood. I really strive to provide the reader or listener with a vivid mental picture of the experiences of Leda and Veronica as they work, play, train, and solve mysteries in Colorado. I keep working on that skill as I expand the series!
How many books have you written and which is your favorite?
I have written two books, DOGGED PURSUIT, and LAWYERS, DOGS, AND MONEY, which will be published at the end of 2023. It is very hard to choose a favorite because I had the title, plot, and characters for my debut novel in my head for YEARS before I sat down and wrote it. My late father was a wonderful writer and I think he would have been so proud to see my book published. Incidentally, he is the inspiration for the main character's father in the series. And I love LAWYERS, GUNS, AND MONEY because I get to build on the secondary characters in the series and add dimension to their roles individually and in the ongoing story of Veronica and Leda.
If You had the chance to cast your main character from Hollywood today, who would you pick and why?
That would be awesome! I just finished watching the most recent season of "Stranger Things" on Netflix and I love Sadie Sink, the actress who plays Max. She effortlessly conveys fearlessness and fierce determination. I also think of Karen Gillan, who stars in the new "Jumanji" movies and the "Guardians of the Galaxy" movies. She would be great as Veronica, with her wonderful dry sense of humor and an innate toughness. I must admit I have a fondness for all things Scottish, having gone to the University of Glasgow.
When did you begin writing?
I actually started writing a little mystery story called "The Mysterious Hut" when I was about nine. Mysteries have always intrigued me, from the moment I opened my first yellow spine picture cover Nancy Drew, purchased at the local department store for $1.50. As I recall, my childhood story involved a thunderstorm and horses running in terror through the woods with the main characters aboard! I followed up that masterpiece with dozens of papers written as a History and English major during my years at university.
But after thinking about writing a mystery series focused on dogs and dog training for quite a while, I got serious, researched the necessary topics, and then sat down to write DOGGED PURSUIT in 2020. The challenge of pulling together an entire book is quite fun and I have loads of ideas for upcoming entries in the series.
How long did it take to complete your first book?
I researched material for the red herrings and concepts I had planned for the book for several months. The actual writing of the rough draft took about eight or nine weeks, writing four to six hours a day. My elderly dog supervised the entire process while napping after her morning rambles with me in the woods. She has just completed oversight on the completion of book two. Cocoa is another in a long line of rescue dogs with tough backgrounds that have enriched my life and I cannot thank the Preble County, Ohio Humane Society enough for entrusting her to me.
Did you have an author who inspired you to become a writer?
Mary Stewart and her captivating mysteries, mostly written in the 1950s and 1960s, were a big influence on me in terms of creating a strong heroine for the center of my books. I adore her feisty and intelligent female characters and her ability to create atmosphere in her books. You can feel the heat, hear the ocean, and smell the wildflowers in her descriptions of Greece in MY BROTHER MICHAEL and Crete in THE MOON-SPINNERS.
What is your favorite part of the writing process?
I did tons of research prior to the commencement of writing and I loved it. Learning new things is exhilarating. And I continue to be amazed at all the ways dogs can be trained to enhance the lives of their owners. I highlight the training of different service dogs in each book.
I was pleased to discover how much I relished the whole process of writing a book. I loved developing the characters, choosing the dogs, writing action scenes, trying to give away just enough pertinent information (but not too much), and constructing a little bit of a cliffhanger epilogue! It is quite fun and rewarding putting a story together from start to finish.
Describe your latest book in 4 words.
Dogs and Girl Power in Colorado
Can you share a little bit about your current work or what is in the future for your writing?
The second book in the Veronica Kildare K-9 Mystery series, LAWYERS, DOGS, AND MONEY, highlights Veronica's natural affinity for training dogs—including peanut allergy alert and prison contraband sniffing dogs—and her passion for locating missing people. As the book unfolds, she joins her search and rescue partner, a deputy sheriff for Boulder County, in trying to ascertain the source of threats against Kadri Ilves, a co-worker of Sgt. Donovan's daughter at a high-end import/export business. The woman being targeted is a native of Estonia and has a long history of advocating for social justice issues. Veronica's father assists the investigation by researching Kadri's background, including her work to end racial disparity in prison sentencing, and legal claims she has filed relative to disputed lands in Estonia—a cause which may have put her in the crosshairs of the California branch of the Russian mafia. The book concludes with a stunning showdown involving all the main characters, and a shocking final twist related to the central mystery.
I am currently researching for book three in the series, SICK AS A DOG. (On a side note, Veronica will be training a dog to help wildlife biologists in their search for an endangered species in the field. I am open to suggestions as to a preferred dog breed to accomplish this task!)
Thank you so much for interviewing me!
About the Author
Tracy Carter graduated from the University of Glasgow, Scotland with a master's degree in history. Her lengthy career as a legal assistant has included stints at international law firms and prosecutors' offices, followed by jobs as the horse identifier at two thoroughbred racetracks — all while training dogs in obedience and rally. She lives near Cleveland, Ohio, with her husband and Llewellin Setter (aka the diva).
Contact Link
Purchase Links