Publisher: Capital Station Books
A secret war of sorcerers threatens to tear the world apart.
The year is 1917, and the Russian Empire is on verge of collapse.
Florence Cavell—codename Geist—takes her special forces team of sorcerers into allied territory in an effort to hunt down spies and keep the Russian royals alive. If the Russian Empire falls, the Germans and Austro-Hungarians will turn their full attention to France and Britain. That can't be allowed to happen.
Unfortunately for Geist, the enemy has sent the Eyes of the Kaiser, specialists who hunt and destroy sorcerers. And they came prepared to eliminate not only the Russian royalty, but the Ethereal Squadron as well.
Praise for Ethereal Squadron:
"In tense, precise prose that skillfully conveys detailed descriptions, Stovall delivers this engrossing story of fantasy adventure with utmost precision. The Ethereal Squadron's riveting fantasy world will fuel readers' imaginations and leave them crave for the next book in the sequel."
- The Prairies Book Review
Interview
Hello, everyone! My name is Shami and I'm here to talk about my latest release, A Company of Monsters! It's a historical paranormal fantasy with sorcerers in WWI!
Is There a Message in Your Novel That You Want Readers to Grasp?
Loyalty, teamwork, and clever thinking will always win the day. My novel deals a lot with special forces teams, and the small groups need to work together or else be tricked by the enemy!
Is there anything you find particularly challenging in your writing?
Making sure everyone is having fun. I know I can't please everyone with my writing, but I try to make sure that it's entertaining.
How many books have you written and which is your favorite?
I've written about 20 now, and my favorite is Star Marque Rising—a space opera science fiction novel. It's a fun adventure novel with a great message and twist ending. I always recommend it.
If you had the chance to cast your main character from

Hollywood

today, who would you pick and why?
I don't really know much about actors, so I would just go with whoever fit the role the best. I'd want him to be youthful, yet tough, and speak with the same voice the narrator of my audiobooks uses.
When did you begin writing?
At night. Typically around 9pm.
How long did it take to complete your first book?
My first book was super long. Over 250,000 words. I think it took me close to 8 months to finish it.
Did you have an author who inspired you to become a writer?
Stephen King, JK Rowling, and (especially) Robert A Heinlein.
What is your favorite part of the writing process?
Writing the ending. I love a good finale.
Describe your latest book in 4 words.
Exciting. Tense. Dramatic. Magical.
Can you share a little bit about your current work or what is in the future for your writing?
I intend to write a ton. My current novel, Coliseum Arcanist, is set in world where anyone can bond with a mythical creature and gain magical powers. In the future, I tend to write lots of sci-fi and high fantasy, and I just can't wait!
And thank you so much for having me! I really appreciate the time and effort (and anyone who read this). Have a nice day and I hope you check out A Company of Monsters!
About the Author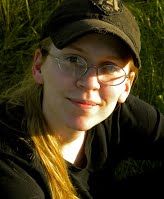 Shami Stovall grew up in California's central valley with a single mother and little brother. Despite no one in her family earning a degree higher than a GED, she put herself through college (earning a BA in History), and then continued on to law school where she obtained her Juris Doctorate.
As a child, Stovall's favorite novel was Island of the Blue Dolphins by Scott O'Dell. The adventure on a deserted island opened her mind to ideas and realities she had never given thought before—and it was at that moment Stovall realized story telling (specifically fiction) became her passion. Anything that told a story, be it a movie, book, video game or comic, she had to experience. Now, as a professor and author, Stovall wants to add her voice to the myriad of stories in the world and she hopes you enjoy.