Date Published: March 9, 2021
Publisher: Ink & Magick
What is the price of justice?
As a ward of the Lacklands, Robyn Loxley has lived a privileged life. Even now, in 1942, when another war ravages the world and people on the home front must do without, her adopted family is not affected by the rations and shortages.
That's not to say she hasn't been affected by the war personally. As Robyn hits yet another roadblock in her quest to see her best friend Will, trapped in a Japanese-American concentration camp, she stumbles onto the people of Sherwood.
With dark truths revealed about the Lacklands and what really goes on in Midshire, Robyn must answer what justice means to her and what she's willing to do to exact it.
Robyn and the merry band get an update in this dieselpunk sci-fi adventure.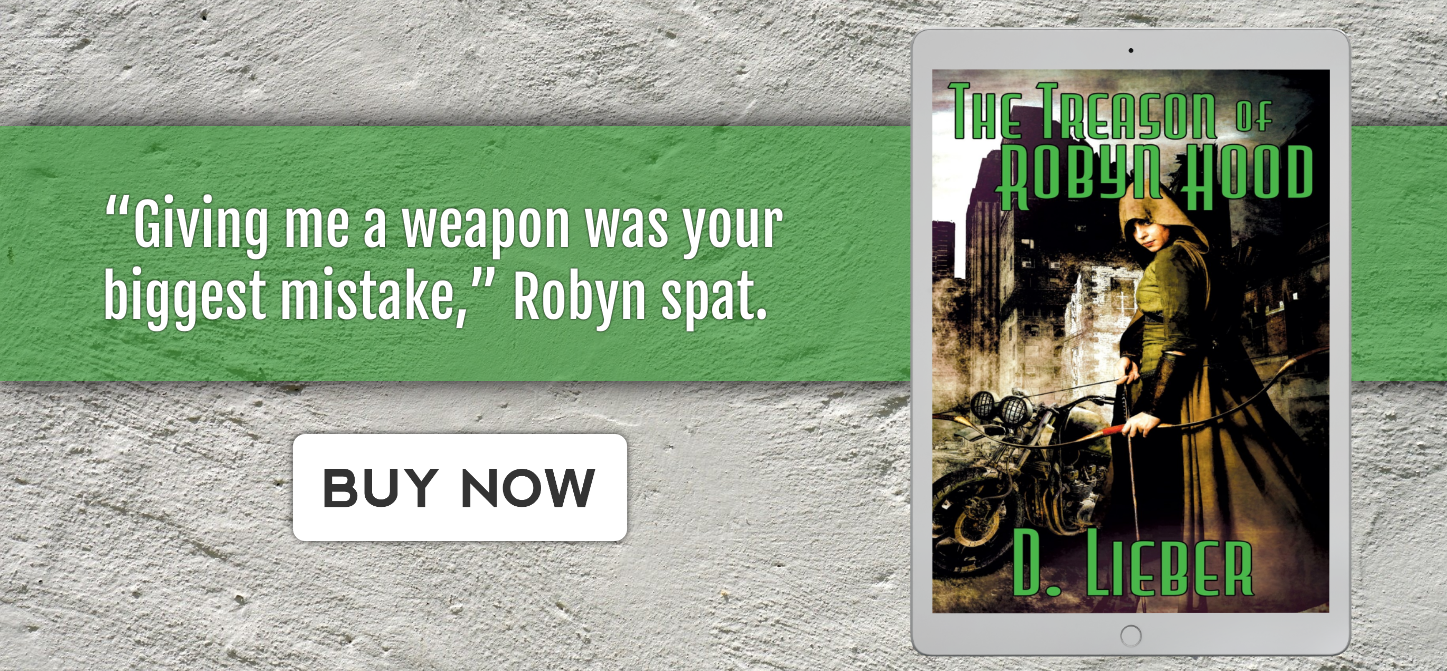 "The Treason of Robyn Hood has suspense, drama, humor, romance, and action, all jam-packed in a tightly paced novel full of intrigue...I enjoyed it immensely and will highly recommend it to fans of fantasy and adventure. "
—Readers' Favorite®
"Connoisseurs of urban fantasy and offbeat romance will find this novel both a fun and fulfilling read. The clever characterizations and skillful melding of fantasy, adventure, and romance put a spotlight on sisterly devotion, oddball alliances, social conscience, and the human ability to rise above broken hearts and broken lives. "
—The US Review of Books
Interview
Is There a Message in Your Novel That You Want Readers to Grasp?
Of course, there is. There always is. But mostly, I just want to get readers thinking. But if you're wanting a hint to a few of the themes The Treason of Robyn Hood discusses, I'd say I spent a lot of time asking what is justice? How far are we willing to go to get it? Are we willing to risk everything? What happens when people in power are corrupt or turn a blind eye to corruption? But, on the other hand, these are themes that tend to be in many Robin Hood books.
Is there anything you find particularly challenging in your writing?
I find imposter syndrome, and the emotional aspect of creating the most challenging part of being a writer overall. As to the craft itself, I find describing how people feel without saying it the most difficult. I'm visually impaired, so I don't see people's facial features and gestures in detail. So describing something I have never seen, but everyone else has, can be hard for me.
How many books have you written and which is your favorite?
The Treason of Robyn Hood is my eighth published work. I also have two completed but yet unpublished novels in various stages of production. Which is my favorite? It really depends on my mood. But if I really have to say, I'd pick either The Treason of Robyn Hood or Once in a Black Moon.
If You had the chance to cast your main character from Hollywood today, who would you pick and why?
Honestly, I would just pick whoever was best for the role. It would probably end up being someone fairly unknown.
When did you begin writing?
I started writing poetry in middle school. But I started writing my first novel (Conjuring Zephyr) in 2015, which was published in 2016.
How long did it take to complete your first book?
A couple of months for the first draft? Four tops.
Did you have an author who inspired you to become a writer?
Not in a way you might think. I really put authors on a pedestal growing up. I wouldn't have dared to even think of counting myself amongst them. But, when I was at an author panel at a convention, I heard an author quote Toni Morrison. "If there's a book that you want to read, but it hasn't been written yet, then you must write it." That inspired me to try.
What is your favorite part of the writing process?
When it's over.
Describe your latest book in 4 words.
Dieselpunk Robyn Hood Adventure
Can you share a little bit about your current work or what is in the future for your writing?
I'm so excited about The Treason of Robyn Hood. So far, it's the work I'm most proud of because it deals with some really serious topics. I had a lot of fun reimagining the characters I love so much and putting them in a whole new world. I'm particularly excited about my special illustrated edition. And I know my readers will be really excited to hear about what's coming next because I'm finally releasing a few sequels to my earlier works. Both sequels to The Exiled Otherkin and Intended Bondmates have written first drafts, and I'm going to be working on a third for the Intended Fates series soon. I know they've been patiently (or impatiently) waiting for a while for me to come back around to those worlds. And I'm happy I'm finally able to oblige.
About the Author
D. Lieber has a wanderlust that would make a butterfly envious. When she isn't planning her next physical adventure, she's recklessly jumping from one fictional world to another. Her love of reading led her to earn a Bachelor's in English from Wright State University.
Beyond her skeptic and slightly pessimistic mind, Lieber wants to believe. She has been many places—from Canada to England, France to Italy, Germany to Russia—believing that a better world comes from putting a face on "other." She is a romantic idealist at heart, always fighting to keep her feet on the ground and her head in the clouds.
Lieber lives in Wisconsin with her husband (John) and cats (Yin and Nox).
Contact Links
Purchase Links
a Rafflecopter giveaway